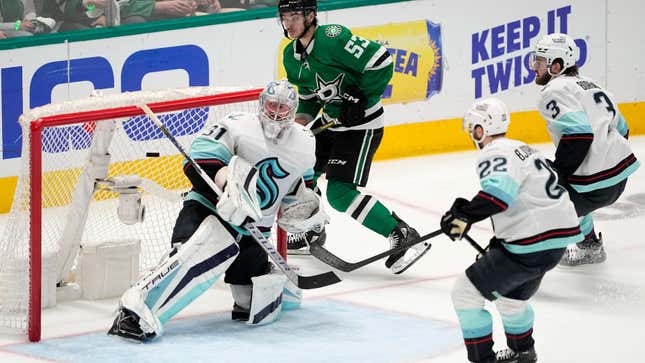 At this time of year, when the NHL gets down to the brass tacks, it's best to know why teams are in the conference finals and why you'd want to watch. It should be easily identifiable what these teams do and/or who they have that makes them worthy of the time of the year, and have left the proletariat behind. It's usually pretty easy to spot.
'Soccer fandom is full of gatekeepers' says Ted Lasso actor Brendan Hunt
This year, the Canes are a perennial division winner and one of the better defensive teams in the league, with a highly mobile defensive corps that pushes them up the ice. The Knights are deep and willing to turn games into contests of who can outwork each other which they almost always win. They are also a division winner. The Panthers are only a year removed from a Presidents' Trophy and saw Sergei Bobrovsky throw a .938 save percentage at the Leafs.
So it's a good thing, really, that the Seattle Kraken were dismissed in the seventh game of their second-round series with the Dallas Stars. While the Stars are hardly a juggernaut, they at least have a future Rocket Richard Award winner in Jason Robertson, a quickly blossoming young No. 1 center in Roope Hintz, and a future Norris Trophy candidate in Miro Heiskanen (THE REDEEMER).
What do the Kraken have? Who the fuck knows.
Seattle has been an utter mystery
Seattle has been an utter mystery all season. They had a 40-goal scorer in Jared McCann, but we've watched McCann cycle through three teams before landing in Seattle to pretty much know he's a middle-six winger. So they must've been a pretty good defensive team? Yeah, in the regular season they were fourth in expected goals against. But in the playoffs, they were pretty butt, giving up 2.76 xGA per game, which was good for 11th out of 16, with the five teams below them all having eaten it in the first round.
So a dynamic offensive team? No, not that either. They were 20th in xGF during the season, and they maintained the same rate in the postseason to rank 13th out of the playoff teams. Special teams? Nope, as both their power play and penalty kill ranked 21st during the season, and their power play during the playoffs made Baby Jesus cry.
And before you even start, no, their goaltending would have to wheel-pose to even be called middling in the playoffs, after being downright bad in the regular season. Basically, the Kraken spent 96 games having an inordinate number of shots go in because either A) they'd unearthed a series of underappreciated and undiscovered snipers in the expansion draft and off the scrapheap and hence are one of the greatest scouting forces of all time or B) hockey was just at its most weird in the Pacific Northwest.
Oh sure, they played "fast" in that they got the puck into the opponent's zone quickly, though rarely did they manage to string three passes together to do so. Nor were they much interested in doing so. Just get it there and they would buzz around and the bounces would go their way. It nearly worked.
But still, like any second-year team they're faceless and featureless, other than speed, which pretty much every team is featuring these days (except the Rangers). Roll out their sub-.900 goaltending next year and they'll miss the playoffs by a distance. The Kraken spent most of this series against Dallas getting pretty well thumped. In four of the seven games they were on the ass end of severe beatings in Corsi and expected goals and were just about even in a further two. They just kept having enough goals go in…because Jake Oettinger went a little funny this series and because the Hockey Gods were huffing paint again. Story wasn't much different in the first round in Colorado, except they got the coin flip that time.
It was cute and all, a novelty, a quirk, a ghost in the machine. But this is supposed to be a time for realness, and the Kraken got found out just in time. Basically, the Kraken need to come back when their balls drop and we can identify something special about them other than how strange it is that they were here at all.
Blue Jays broadcast notices Aaron Judge looking at...something
This assuredly won't become an overblown thing in the next day or two…
While Blue Jays broadcasters Dan Shulman and Buck Martinez didn't say any more about it than it was just something they noticed, they'll certainly be labeled as accusing Judge of…something. And it's not exactly that the Yankees have been above reproach in recent history.
Still, the most likely explanation is that hitters don't like to stare out at the pitcher for too long, fearing that they'll kind of get glassy-eyed and get a little on their heels. You'll often see hitters look off during their practice swings to refocus when they do look back at the pitcher.
But it is rare to see a hitter do this right before a pitch is thrown. It could be that Alex Manoah is tipping his pitches and someone in the dugout noticed, which might be one explanation for Manoah playing with matches and kerosine all season (that or his fastball losing some velocity). And maybe Jay Jackson was…too? Well, that's a stretch.
Interesting, is all.
---
Follow Sam on Twitter @Felsgate.