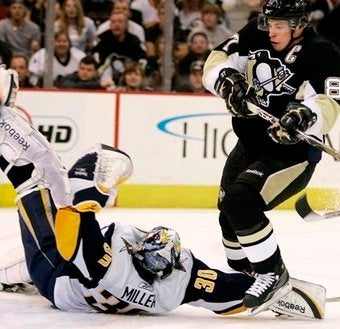 The Buffalo Sabres beat Pittsburgh on Monday, but with no thanks to the boys in zebra stripes. The Sabres were on the short end of three different 5-on-3 situations and even got a bench minor for "abuse of officials." Although to hear Sabres goalie Ryan Miller tell it, the officials are the ones who were dishing out the abuse.
Miller claims he innocently asked a question of either Tim Peel and Justin St. Pierre (he wouldn't say which, but tapes suggest it was Peel), when the ref in question told him to go fuck himself.
"He told me to "go [bleep] myself' because I was just asking a question. I was just kind of joking around [to Ruff], saying, "Maybe that kind of started what got the bench minor going.'

"To be honest, I was respectful. I asked him a question and he told me maybe I should "go [bleep] myself."
The question Miller asked was "Is it difficult for you to see the bullshit calls you're making with Crosby's balls in your face?" And the guy totally took it the wrong way! The nerve of some people.
Miller says official used profanity [Buffalo News]
Photo: AP