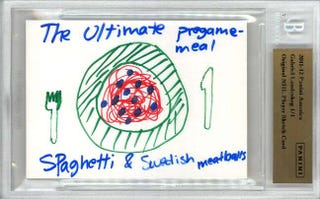 That up there is the handiwork of Avs rookie Gabriel Landeskog, and it's a hell of a medical textbook cross-section of a watermelon. Except it's not that. It's Landeskog's favorite pregame meal of spaghetti (we assume he pronounced it "pasgetti") and Swedish meatballs. This is acceptable because he was born in 1992 is a child and you are old.
It's all part of Panini's Sketch Cards series—26 young'uns at the Rookie Showcase were handed pieces of paper and told to "sketch something." These are the results. Like, half of them drew fishing scenes, and only Cody Eakin has talent.
We're partial to Ryan Nugent-Hopkins proving he knows what sport he plays, and Carl Klingberg's sunny optimism.
NHL Rookies Get Artsy for Panini America's Unique 2011 Toronto Fall Expo Sketch Cards [Panini America]
•••••
Thanks for your continued support of PennStateSpin. Cleansing MACtion tonight.