Wrestlers are artists who perform dangerous, violent stunts nearly every night, and it is extremely important that these stunts be done with care. If a match features one participant who is not equipped to properly pull off the stunts with his or her opponent, disaster can strike. That's nearly what happened during last night's match between Nia Jax and Charlotte on WWE Raw.

Some background here: Nia Jax is a member of the Anoa'i family, the Samoan wrestling dynasty that includes everyone from Yokozuna to the Usos to Roman Reigns to The Rock. Charlotte is the daughter of Ric Flair, one of the wrestlers in contention for the Greatest of All Time label.
So The Rock's cousin wrestled Ric Flair's daughter, and The Rock's cousin dropped Ric Flair's daughter on her head. First, she tries a shoulder breaker, a move where she's supposed to drop her opponent's shoulder on her knee. (Here's Titus O'Neal executing a few textbook examples.)
Instead, Jax stopped short of her knee, then promptly dropped Charlotte right on her head. The referee immediately slides over to check to see if Charlotte is okay.
G/O Media may get a commission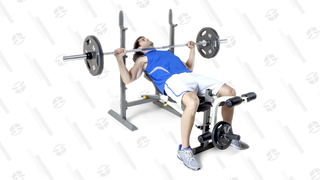 10% Off
Marcy Folding Weight Bench
She was, apparently. The match continued. But then Charlotte attempted a moonsault off the top rope to the outside. Not an easy move, and one that requires some assistance from the opponent. (Here's a Cody Rhodes one from the top of a steel cage.)
Essentially, Jax is supposed to catch Charlotte as she comes down. She doesn't, and Charlotte's face slams into the floor. For added measure, Charlotte ended up kicking Jax right in the head.
To add (storyline) insult to (possible real-life) injury, Jax ended up pinning Charlotte in a bit of a squash match.
h/t Jerk the Curtain