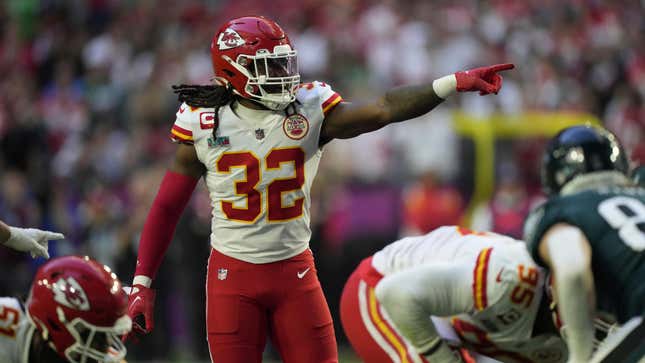 Andy Reid broke into coaching in the college ranks, spending a decade on recruiting trails and visiting high schools around America hoping to find the next great offensive lineman. His final position in the collegiate ranks was at Missouri, which wasn't a great team during Reid's three seasons in Columbia. The now-two-time-Super-Bowl-winning head coach helms the Show-Me State's lone NFL franchise and dipped into his past to help make his future brighter two years ago when the Chiefs selected Nick Bolton with their first choice of the 2021 NFL Draft at No. 58 overall.
The Bills or Chiefs will win the Super Bowl | Agree to Disagree
Bolton has been an integral part of Kansas City's defense since making the two-hour trek west from Mizzou to KC. As a rookie, Bolton had 112 tackles in 16 games. This season, he was second in the NFL with 180. And no defensive player on either team in Super Bowl LVII had his name called by Kevin Burkhardt and Greg Olsen more than Bolton, who will turn 23 in March. Those who've watched Bolton since his arrival in Columbia have seen this potential. His game-high nine tackles, fumble recovery, and ensuing touchdown are nothing new to those that have kept a close eye on him. He's ready for the third-year glow-up.
Being in the right place at the right time more frequently than anyone else is a skill. Let's not forget Bolton probably should've had two scoops and scores against the Eagles. Miles Sanders did catch the ball before getting hit and the ball coming loose. With two defensive touchdowns, Bolton might've given Patrick Mahomes a run for the game's MVP award. To be this good, this young at any position means a huge contract is coming down the line. Bolton just finished year No. 2 on his 4-year rookie contract. I'd imagine the Chiefs want to lock him in for a long time before Bolton's tempted by free agency, so he'll get paid by the end of the 2024 season.
Bolton didn't even start his first year at Missouri, behind Terez Hall and Cale Garrett, who both have spent time on NFL practice squads. In Hall's case, he's spent several games on the Patriots' active roster. In 2019, as I joined the Mizzou beat full-time, Bolton got his starting spot next to Garrett. Over the next two seasons, Bolton evolved into one of the best defensive players in college football's best conference. Sure, he didn't play for a team competing for national championships, but anyone watching the entire Southeastern Conference, as any good NFL scout should, could've seen his next-level talent from a mile away.
It's an indictment of the Chiefs after the 2020 season that they needed a second-round pick to play as the heart of their defense. At Bolton's pro day in March 2021, Kansas City's presence was evident. There was a ton of momentum behind keeping Bolton in state. To those on the beat, high-profile players finding the right home always somehow made more sense than any of us realized. After Gary Kubiak and John Elway appeared in Missouri's press box during the 2018 season, it should've been obvious Drew Lock was going to be selected by the Broncos. When tons of Kansas City media paid extra attention to Bolton's pro day than the usual crop of Tigers' prospects, that should've been a giveaway. And the Show-Me State has been great to Bolton, mainly because he's been great to its only NFL and FBS teams.
The Chiefs' defense will always be a secondary act as long as one of the best quarterbacks of all time is on the roster. Its main goal: let's not give up enough points to where even Mahomes can't save our butts. It's the world's best safety net, but still, one that can't be messed with. Despite Travis Kelce's assertion that many people doubted Kansas City coming into this season, who were those people? Surely they didn't know the game of football because the Chiefs had hosted four straight AFC Championship games with the same core roster. Next season, there's no reason Kansas City can't make it six in a row. Yes, that's mainly because of Mahomes. But take a note from Eric Stonestreet, the Emmy Award-winning Kansas City, Kansas native and die-hard Chiefs fan. In a postgame interview with Fox Sports, he went out of his way to shout out Bolton for his play. Every other Chiefs fan should do the same.