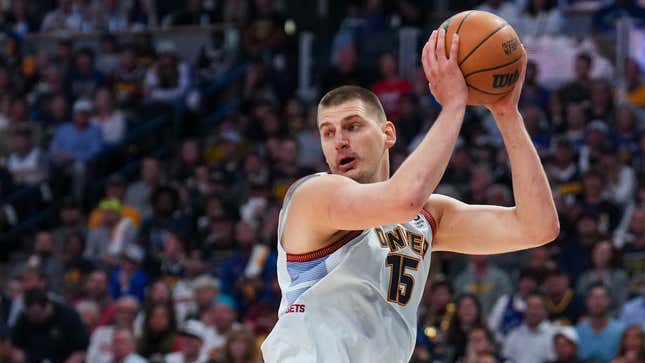 The player most deserving of the highest rating in NBA 2K24 is Nikola Jokić. Whether he is actually the best player in the NBA is irrelevant to him earning that distinction. The way that he bulldozed his opposition while leading the Denver Nuggets to their first NBA Championship, no other player should have been considered for the top rating.
Nikola Jokić is the NBA's Babe Ruth | Keep it a Buck(et)
Fair warning, for players of the game that desire to use the top player, it won't be like Kobe Bryant in NBA Live 2004 or LeBron James in NBA 2K13. The long crossovers, stutter steps, and windmill dunks will not be part of Jokić's package of moves.
If 2K24 were set up similarly to Live '04, the only symbol next to Jokić's sneakers could have been the Three-point Shooter ball, and it is a maybe that he would have gotten it. In a league in which Al Hordford shot better than 44 percent from behind the arc, Jokić's 38.3 percent might not have cut it. He most certainly would not have been bestowed the Big Dunker shoe or the Tight D padlock. EA Sports didn't make a Court Vision eye emoji.
When using Jokić at the top of the key it would not be wise to initiate the offense with him the way that you would Kyrie Irving. Don't experiment with every single dribbling move the controller is capable of executing because Jokić will be too slow to get past anyone.
How to have some fun with him in the game is to use him like the Nuggets do, pick and roll with Jamal Murray. Set that play up over and over, and go to work with Jokić's low post-move arsenal. If I still played 2K I would be so annoying while using up every second of the shot clock. I'd be up faking, dream-shaking, and Kevin McHale drop-stepping for 18 seconds on every possession while deciding between a jump hook or spraying a pass out to Michael Porter Jr. for a three.
I'm sure Jokić will be able to catch an alley-oop in the game, but it won't be nearly as satisfying as throwing one to Anthony Davis. Jokić won't be doing pull-ups on the rim after a monstrous two-handed slam. He might hang on the rim for a couple of seconds afterward.
I have doubts that NBA 2K24 Jokić will be able to nudge his way into the sports video game Mount Rushmore with Tecmo Bowl Bo Jackson, Madden 2004 Michael Vick, Pablo Sanchez from the Backyard series, and Mike Tyson from Mike Tyson's Punch-Out.
Then again, maybe Jokić will be the greatest mismatch in basketball video game history. He could be able to back defenders down from halfcourt or throw a perfect no-look pass from that spot to a 3-point shooter in the corner. Maybe a Twitch streamer will discover a way to use Jokić in a way that will be so memorable in 20 years that he can star in a commercial about his video game self just like Bo.
Good for Jokić that he is getting his flowers. It's hard to be noticed when you play in the mountain time zone and most of the people who reside in the state in which you play cannot access your home games.
Jokić pounded out the respect of everyone who watched his spring playoff run. No one will doubt his talent anymore, but his entertainment value as the boss character in a video game, there are reasons to have questions.