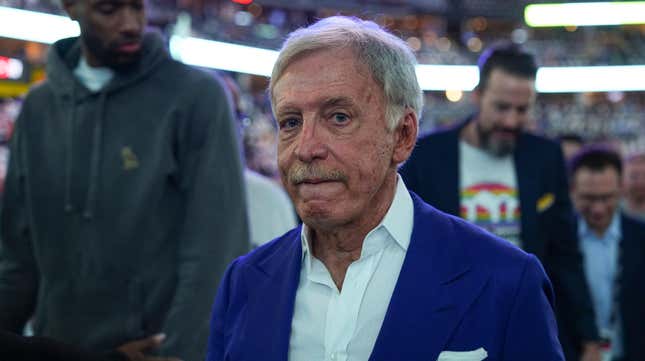 A large portion of Coloradans hasn't been able to watch the Denver Nuggets since 2019. Those who have Comcast, which is most people in the Centennial State, missed Nikola Jokić's two MVP seasons, and this year's finals-winning group, the first in franchise history. Yet I see all these headlines today praising Stan Kroenke's $12.6 billion sports empire, and the four titles his teams have won in the past 16 months. I will have none of it, and I couldn't give a shit how effusive Michael Malone, Jokić, and the rest of the Nuggets were in their appreciation for Rocky and Bullwinkle's arch-enemy.
World Series Stats That Will Blow Your Mind
He's an unrelenting business psycho, so save the brown-nosing for the Kroenke Chronicles, a memoir that zero human beings will ever read, and likely won't mention everything I'm about to.
You know the stories, but let's do a quick recap of ol' Stan's greatest hits. The city of St. Louis sued him, and won, for the way the Rams relocated to California. He didn't have to foot the entire tab though, because the other NFL owners paid about a third of the $790 million suit. Arsenal supporters were ready to throw Kroenke in the Thames a couple years ago, but have somewhat relented after the Gunners' recent improvement. Oh, also, Colorado Avalanche contests have been blacked out since 2019, too, which included last season's iteration that lifted the Stanley Cup.
Wait, is Kroenke a good owner?
If you're wondering, yes, I'm one of the agnostic NFL fans that were abandoned in the wilderness when the Rams left the Edward Jones Dome, but did you see Stan's interview with Lisa Salters last night? Why are you whispering in her ear, bro? She doesn't want to go to your place for the after-party. I'm not sure who dictated that we have to hear from the owners first (or at all) when a team wins a title, but that person sucks.
Tim Cook didn't precede Jason Sudeikis when Ted Lasso won 17 Emmys. Ditto for musical acts and Grammys. Let the artists shine, and bury the suits as far away as possible. Oh, Kroenke finally learned the age-old strategy of "spend money, and let qualified people do their jobs"? What a revelation.
The Nuggets lucked into a generational talent in the second round who just so happens to elevate any teammate who steps on the court with him. But, yeah, great job, Stan. You want to impress me? Go the Pat Riley route and free dive for pearls every offseason.
When I lived in Colorado, I used to get pissed at Kroenke just because I couldn't watch my team play the Nuggets a few times a year; I can only imagine the ire of having to CrackStream the local squad 82 times a season. God forbid the bottom line doesn't trend upward, or even worse, stagnate. Must. Win. Every. Business. Deal.
I will always be pro fan when they're pitted against ownership, and I believe those in-market shouldn't have to pay to watch their teams at all. Organizations want us to buy merch and form a sense of community with the organization. Well, nothing shows dedication like a little fiscal hit in order to air your product during a dispute with the cable company.
So, no, I'm unmoved by the success of Kroenke's 15 pro sports teams, or how much of his considerable wealth he's spent, and am especially not entertaining the gargled nonsense he spewed on the podium. Get off the fucking stage because your toupee is distracting, and let the people who actually did the thing get credit for it.