The NFL's franchise tag deadline came and went at 4 p.m. ET with no new contracts for Washington quarterback Kirk Cousins, Pittsburgh running back Le'Veon Bell, and Rams cornerback Trumaine Johnson. If you're wondering what that means for them and their teams, I can explain.
Yeah, like, what does this mean? 
All three players were given the franchise tag several months ago, which effectively limited them to bargaining only with their current teams, with today the deadline to agree to a long-term extension. Cousins and Johnson will play in 2017 on one-year, fully guaranteed deals worth $24 million and $16.7 million, respectively. Bell, who has yet to sign his franchise tender, is set to earn $12.1 million.
So they can't negotiate anymore? With anyone?
Not until after their respective teams have completed the 2017 regular season, no.
G/O Media may get a commission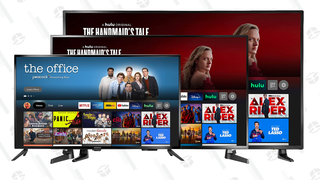 Up to 44% off
Prime Early Access - Insignia Fire TVs
Then what?
All three stand to become unrestricted free agents next March, though their teams will have an exclusive negotiating window with them from the end of the season until then. And each can always be franchised again.
You said Bell didn't sign his tender. What does that mean?
I covered this in detail last month. But by not signing the tender, he's officially not under contract and is under no obligation to report for training camp next week, which means the team cannot fine him for any absences. ESPN's Adam Schefter says Bell could avoid the Steelers until mid-t0-late August. Bell won't start losing money until Week 1 of the regular season, when he'll start missing any game checks he stands to earn by signing his tender.
Why did this happen?
The players and teams couldn't come to terms.
I know, dummy. But why couldn't they come to terms?
There are a lot of complicating factors for Cousins and Bell. Mind if I address them separately?
I just want you to address them.
OK. Kirk Cousins was tagged for a second straight season, which means he will earn $43.9 million for 2016 and 2017. Which is good money for a quarterback. But he's got lots of leverage, even if the back-t0-back tags have kept from hitting the open market and talking to QB-thirsty teams like the 49ers (where his former offensive coordinator, Kyle Shanahan, is now the head coach). Washington tagged Cousins last year because it wasn't totally sold on him. He then played pretty well in 2016 (even if he wasn't great), which meant he was clearly the 'Skins' best option for 2017. So he had little incentive this time to agree to a long-term deal. Because if he's pretty good again this season, Washington will have to franchise him for a third time (at a cost of approximately $34 million) or give him the transition tag ($28 million), or risk letting him hit the market.
Why did he have little incentive to sign this year?
Armed with the knowledge that Washington would (at a minimum) have to transition him next year, he could start any negotiations at $52 million guaranteed ($24 million for this year plus $28 million for next year).
What did Washington offer him?
Team president Bruce Allen put out a statement this afternoon that said Washington offered $53 million fully guaranteed back on May 2. But that was a rather lame offer. As Tom Pelissero of NFL Network noted, it was only $29 million in new money, since Washington had already committed to paying Cousins $24 million this season. That was also before Derek Carr did his new deal with the Raiders. And Matt Stafford is entering the final year of his contract. Cousins was wise to wait to see where the market goes.
What's the risk for Cousins?
If he stinks it up this year, he'll likely hit free agency, and Washington will have no financial commitment to him in 2018. If he's good, Washington can keep doing this year-to-year thing by tagging him again, but it's obviously going to get far more expensive.
What about Bell?
Bell is uniquely gifted, and he has immense value to the Steelers. But running backs in today's NFL have a short shelf life, and Bell has dealt with injuries in recent years. The Steelers apparently felt it was more prudent to let him play a year on the tag—even at a price $4 million higher in average annual value than any other running back—than to make a long-term commitment. The team can then reevaluate what to do after the season.
Would they let him hit free agency?
It's possible. The Steelers signed some bad contracts to retain a lot of their veterans after winning Super Bowl 43, but they've climbed out of that cap squeeze and gotten back to being unsentimental about their veteran players. The tag allowed them to buy additional time with Bell. But the risk is that they could face a very tough decision with him next year. Tagging Bell again would cost them $14.54 million, which would be a two-year commitment of $26.6 million. That's a lot for a running back. But Bell has proven himself to be worth a lot to the Steelers.