The World Cup has always been a tournament of superstars. What separates the fates of these hodge-podge collections of countrymen wrangled together a couple dozen times per year to form some semblance of chemistry and playing coherence ahead of the Big Shebang is very often one particular player's abilities saying "Guys, just follow me. I've got this."
This edition has been much the same, with familiar names like Lionel Messi, Karim Benzema, Neymar, and Arjen Robben—names that lead the biggest club teams in the world—almost single-handedly dragging their teammates to victory.
G/O Media may get a commission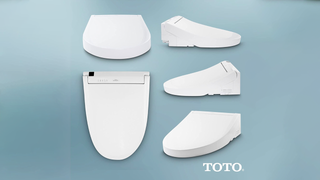 44% off
Toto Washlet Electronic Bidet Toilet Seat
But ahead of every single one of those names should be that of Colombia's James Rodríguez, who's picked this summer to go full blown supernova on the soccer world. Just today, Rodríguez scored two more goals to extend his tally to five, the most in the tournament, and in particular giving Robin van Persie and Tim Cahill a run for their money for the prettiest goal yet.
Let's take another minute in awe of that first goal of his. I'm not sure what's the most ridiculous aspect: That he needs only two touches to control, then score a ball that originally comes flying at him at eye level; that he stands more than twenty yards outside the goal with his back to it, yet orchestrates the entire move with multiple defenders closing him down, needing only as much space as he could find in a telephone booth; or that he even thought, when seeing the incoming pass, hmm, I should probably chest this up, twirl around, and take a swing from here, I bet I can score. It's just...wow.
Rodríguez isn't only a one-trick-pony, if a pejorative like that can even be leveled at a guy who scores goals for fun. Not only can he finish outlandish chances, he is renown for his incisive, creative passing—he has two assists to add to his five goals in Brazil, and lead Ligue 1, where he plays for Monaco, in assists and was second in key passes—as well as his versatility—he's comfortable on either wing and has grown into a more central attacking midfield role.
And while Rodríguez has undoubtedly burst onto the scene this in this tournament, he's quietly been wreaking havoc for a while now. The 22-year-old Colombian made his name with Portuguese giants Porto, where for years he was the most exciting player on a perennial league champion. It was actually his former teammate and upcoming opponent Hulk's departure from Porto to Zenit when the reins were handed over to the wonderkid full time.
Last summer, Rodríguez and teammate João Moutinho were sold to the nouveau riche club Monaco for a king's ransom. The young Rodríguez had the more seamless integration, hitting the ground running for his new club while his former teammate struggled. Already, he's the best player (depending on how—or if—his compatriot Radamel Falcao looks after coming back from injury) on the second best team in one of Europe's five best leagues.
Along with serving as the platform upon which the sport's stars burn brightest, World Cups also are the launching pads for young players looking to flare off a few sparks of their own en route to a move to a more visible club. Being one summer removed from a €45M switch already, it's unlikely we see Rodríguez snapped up by a club and league better equipped to broadcast his wattage to the rest of us. We'll probably only see him for a few Champions League matches here and there, before teams full of international stars snuff out his Monaco side boasting only a couple.
Still, this World Cup is only getting started, and judging from recent evidence, Colombia have a lot more soccer in them this summer. Brazil, you've been warned: James Rodríguez's light is only growing stronger, and all that heat is focused directly on you now, looking to burn you right out of your own tournament.