Matt Ryan and Julio Jones are the household names powering the NFL's highest-scoring and most efficient offense. But the Falcons wouldn't be hosting the Packers with a trip to the Super Bowl on the line without equally significant contributions from running backs Devonta Freeman and Tevin Coleman. Atlanta really does have a complete offense in every sense of the word.

I looked at Ryan and his wide array of pass-catchers a couple of months back. But the unique backfield tandem of Freeman and Coleman (with an assist from fullback Patrick DiMarco) has provided the Falcons with integral pieces as both rushers and receivers. They have their differences, but their similarities are what distinguish them from the rest of the contenders' backfields.
All four of the remaining teams are getting contributions from their running backs—you usually don't make it this far without them. The Packers, when they choose to run at all, have used Ty Montgomery and Christine Michael, though Michael played just four offensive snaps and got zero touches last week against the Cowboys. The Steelers have Le'Veon Bell and DeAngelo Williams, but they've left Williams on the shelf as Bell has carved up the Dolphins and Chiefs. And while the Patriots have deployed multiple backs—LeGarrette Blount, Dion Lewis, James White—the bigger Blount gets the bulk of the carries, while the smaller White and (lately) Lewis have been used primarily as pass catchers, though Lewis has had at least 11 carries in each of the Pats' last four games. Only the Falcons use their backs as interchangeable parts—a design head coach Dan Quinn was up-front about before the season even started.
The results have been devastating. During the regular season, Freeman and Coleman both ranked in the top 18 as rushers in defense-adjusted yards above replacement (DYAR), a Football Outsiders metric; no other team in the league had more than one back in the top 20. Both were also in the top 15 as rushers in DVOA. As receivers, both ranked in the top six among backs in DYAR and DVOA. Freeman averaged 4.8 yards per carry (on 227 carries) and caught 54 passes (of 65 targets); Coleman averaged 4.1 yards per carry (on 118 carries) and caught 31 passes (of 40 targets). Freeman finished with 1,541 yards from scrimmage (1,079 rushing, 462 receiving); Coleman 941 (520 rushing, 421 receiving).
G/O Media may get a commission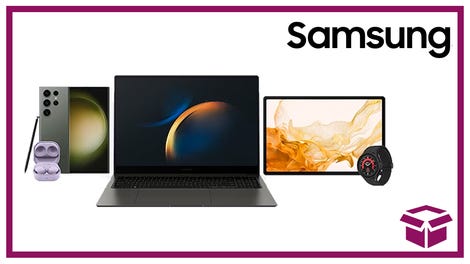 24 hour deals
Discover Samsung - Daily Deal
All of this has benefited the Falcons' high-powered passing game, which has gotten MVP-caliber numbers out of Ryan.
Freeman's and Coleman's mutual versatility manifests itself in other ways. Per Pro Football Focus, Freeman had 577 rush yards before contact during the regular season, which ranked fourth in the league. Coleman had 205, which ranked 40th. Freeman also had 437 yards after catch, good for 13th-most in the NFL, no matter the position. Coleman had 392, which ranked 26th.
"Usually you see a bruiser and a slasher," veteran Falcons pass rusher Dwight Freeney recently told Sports Illustrated. "With these guys, it's another dose of the same deadly stuff."
Which was all part of the plan when the Falcons chose to draft Coleman in the third round in 2015 after having selected Freeman in the fourth a year earlier. Offensive coordinator Kyle Shanahan has parlayed what he's created in Atlanta into a waiting head coaching gig with the 49ers. But the Falcons' running backs coach is 67-year-old Bobby Turner, a mainstay of Shanahan's father Mike's staffs in Denver and Washington. Turner held the same title from 1995-2009 with the Broncos, where his charges included Terrell Davis and Clinton Portis. As SI's Greg Bishop recently wrote:
Turner turned to tandems (or at least thrived with them) long before seemingly every team had one.

Like Denver's coach, Mike Shanahan, Turner favored flexibility over any certain type of running style. He wanted options: speed and athleticism, pass catchers who could also plow forward or sprint off tackle and showcase creativity in space.
Turner also wanted to keep Freeman from wearing down, especially after Freeman carried the ball 265 times and caught 73 passes last season, which he finished with a league-best 14 rushing and receiving touchdowns. "It's about growth," Turner told the Atlanta Journal-Constitution last summer. "Free had a good year, but I'm expecting even a better year. Well, you're saying, how can it be better? It can be even better with less carries or less catches because I'd obviously like to get Tevin more involved and that also keeps Free fresher."
There are some differences between what Freeman and Coleman bring to the backfield. Freeman (5-foot-8, 206 pounds) is smaller and more compact than Coleman (6-foot-1, 210 pounds), and he's capable of running through defenders. Freeman (4.58 seconds in the 40-yard dash) also lacks Coleman's breakaway speed (4.39), but he makes up for that with an ability to change directions in a flash.
The Seahawks saw this first-hand on Saturday. When Seattle tried to blitz, Freeman hesitated as though he was going to stay in and block, only to release and get a step on linebacker Bobby Wagner before he shattered safety Steven Terrell's ankles en route to a 53-yard gain:
None of this happens without the Falcons getting great play up front. PFF last year graded their offensive line as the fourth-best in the NFL. And this year, Atlanta fixed its weakest link along the O-line by signing ex-Browns center Alex Mack in free agency. Per PFF, Mack finished the season with a run-blocking grade of 90.7, which ranked first among all centers across the league. All told, according to Football Outsiders, the Falcons' O-line ranked 10th in adjusted line yards. And per NFL research, Atlanta was the only team to use the same starting five up front all year.
Watch the line—and left guard Andy Levitre in particular—open up multiple truck-sized holes for Coleman to dash through during a Week 7 loss to the Chargers. Levitre even got upfield to take out a second San Diego defender:
Notice, too, that DiMarco, the Falcons' fullback, had a hand in blocking on that play. NFL teams are using fullbacks less and less frequently these days, but DiMarco has had a valuable role to play in Atlanta's backfield even though he hasn't carried the ball at all this season and only has seven catches for 52 yards and one TD. During the regular season, DiMarco was on the field for 31.2 percent of the Falcons' offensive snaps; only James Develin of the Patriots (31.3 percent) and Kyle Juszczyk of the Ravens (40.8) played more, per Football Outsiders. And DiMarco's presence allows the Falcons to go heavy when necessary: In a Week 5 win at the Broncos, when the game plan dictated that Ryan throw it just 28 times—a season-low for a non-blowout situation—DiMarco played 40.3 of the snaps. "As a blocker, he excels at sealing linebackers or defensive ends to open rushing lanes, and even in pass protection he's balanced, poised and strong at the point of attack," Matt Miller of Bleacher Report wrote last year, when he named DiMarco the top fullback in the league. "You'd feel good if DiMarco was protecting your blind side or tasked with opening your rushing lane."
What Freeman and Coleman can do for the Falcons has been augmented by the way Kyle Shanahan has chosen to use them. Over at FiveThirtyEight, Ty Schalter showed how Shanahan is "dictating matchups and getting players open" with an ever-shifting use of personnel groupings, formations, and pre-snap motion packages.
Here's another example from the Seahawks game. Watch how the Falcons line up with three receivers, and Coleman and a tight end in the backfield, only to have Coleman motion out wide. The pass fell incomplete, but only because Ryan overthrew Coleman, who had beaten his man:
If the Falcons are going to get to the Super Bowl by beating Aaron Rodgers—who sometimes feels like he's a one-man-show—it will likely be because of Ryan and the way they use all of their offensive pieces—but especially Freeman and Coleman.