The Packers aren't bad anymore—they're on the cusp of a wild card—and it's in large part because they've finally figured out how best to use Ty Montgomery, a notional wide receiver who's really been a running back all along.
When Green Bay drafted Montgomery out of Stanford in last year's third round, they had every intention of using him as a slot receiver and a kickoff returner. "He's a bigger [Randall] Cobb," one team scout said then. Hindsight's easy, of course. But by the time Montgomery finished galloping for 162 rushing yards and a pair of touchdowns on Sunday at the Bears—the Pack's fourth straight win after a 4-6 start—everything about his transition back to what was once his natural position seemed inevitable. Yet necessity had to intrude before head coach Mike McCarthy made the switch.
Until Week 7 of this season, Montgomery did function largely as a slot receiver and kick returner, though the Packers occasionally lined him up in the backfield and even sometimes handed him the ball. But that was strictly as a diversion: He had just eight career carries until Eddie Lacy and James Starks both got hurt, and the Packers suddenly needed a full-time running back. The only thing about Montgomery that didn't seem to fit the bill was his No. 88 jersey number.
When he arrived in Green Bay, Montgomery was a blank canvas. But the Packers never seemed to be able to find the right brush. "Extremely versatile," offensive coordinator Edgar Bennett said as far back as October of last year. "His ability to line up in the backfield, to play in the slot, to play outside gives you quite a few options, and, as you know, this game is about matchups, and anytime you have a player of that caliber putting him in different positions to make plays, it bodes well for the offense." Yet in six games last season before he was shut down with an ankle injury, Montgomery finished with a grand total of 18 offensive touches. His limitlessness seemed to be limiting him.
"A jack-of-all-trades, master of none," is how Nolan Nawrocki's draft guide described Montgomery coming out of Stanford, where he was used pretty much any which way, without a whole lot of focus on any one thing. (He had been a four-sport athlete in high school, playing football, basketball, track and field, and lacrosse.) As Pro Football Focus's Sam Monson put it a couple of months back:
"Montgomery was a tough player to evaluate as a draft prospect because they didn't use him as a traditional wide receiver, rather a dangerous ball-carrier that they just tried to get the ball to in space. His route tree was Spartan at best, and what routes he did run looked forced and unnatural. His hands were poor, and he routinely dropped even the easiest of catches. He looked like a player that was thinking about everything he did, step by step."
G/O Media may get a commission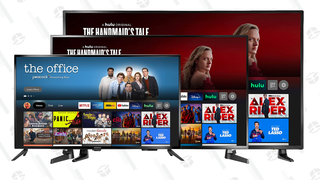 Up to 44% off
Prime Early Access - Insignia Fire TVs
Going back even further, there was PFF's own pre-draft evaluation of Montgomery, which included this (emphasis mine):
"Ty Montgomery is a poor receiver. You don't want him playing wide out for your team. His hands are poor, featuring some extremely ugly drops over the year. His routes are labored, and he doesn't seem comfortable with what he is doing at all. So what is there to work with? I think he's a running back, and a pretty good one, masquerading at receiver. The other bonus with Montgomery is he will be a very useful return man into the bargain."
Not to mention Nawrocki's assessment of his future (emphasis again mine):
"Is most consistently impactful in the return game and creating plays out of the backfield and might be ripe for a RB conversion given his run strength and toughness with the ball in his hands and inconsistent hands [as a receiver]."
These qualms about Montgomery's receiving skills were noticeable. Here he is, in Week 4 of last season, dropping a an Aaron Rodgers pass that appears to be just beyond his reach. But upon closer inspection, watch how stiff and rigid Montgomery was coming out of his break. A more natural wideout might have made that hesitation move more smoothly, and thus had an extra-half step to get under the ball without having to reach for it:
Montgomery is listed at 6-foot-1, 216 pounds, a compact build that bears a close resemblance to the contemporary template of successful running backs like Ezekiel Elliott (6'0", 225), Le'Veon Bell (6'1", 225), and David Johnson (6'1", 224). And Montgomery's experience as a receiver—limited though it was—also allows him to be weaponized in the passing game, much like Bell, Johnson, and even Elliott.
The Green Bay Press-Gazette explains how Montgomery's better-than-average pass catching abilities provide a unique challenge for defenses:
"Defensive coordinators have to decide how to match up when he's on the field. They know he's probably going to line up at running back, but before the ball is snapped he's just as likely to motion out to receiver as to stay put. And he's a legitimate player at both positions.

Should the defense go to its dime personnel so it can cover him with a defensive back if he splits out? If it does that, it's vulnerable to the inside run. If it goes nickel, it has a second linebacker to play the run. But then it will have to cover him or another receiver with a linebacker. That's the kind of mismatch offenses look for in the passing game."
OK, enough talk. Let's watch Montgomery run. Here, in Week 7 against the Bears, he exhibits the patience, shiftiness, and burst speed of a natural running back:
Here, in Week 13 against the Texans, is a display of physicality that would make Jim Brown proud. Watch as Montgomery stiff-arms 260-pound linebacker Benardrick McKinney without losing stride before trucking over cornerback Johnathan Joseph:

According to ESPN, Montgomery averages 3.68 yards per carry after contact, which ranks first in the NFL among backs with at least 60 carries this season.
Helping matters is that the Packers haven't had to overwork Montgomery. Before Sunday's breakout game against the Bears, he had averaged just six carries per game since becoming a full-time back. (Last month, Green Bay claimed Christine Michael off waivers from the Seahawks, and Michael has since chipped in with a complementary 4.3 yards per carry on 24 carries.)
Here's another run to the outside against the Texans. Again, Montgomery waits for the hole to develop behind Jordy Nelson's block out past the numbers. And that same rigid stutter-step that might have been too slow on a downfield route is just right here: Montgomery can change direction with enough balance and speed to get to the edge. But, like a true running back, he's also able to lunge forward to pick up a few extra yards and a first down:
PFF's Monson did acknowledge that Montgomery eventually "looked far more natural as a receiver" with the Packers than he did in college, in part because he's had to run more traditional routes. This is what makes Montgomery such a weapon: Like Bell and Johnson, he can line up anywhere and find ways to get open, as the Cowboys discovered in Week 6:
One more reason why Montgomery is such a good fit as a running back: He had been a ballcarrier throughout high school, even as he played wideout, and he progressively got more carries as a running back as he got older, though he recently told ESPN's Rob Demovsky his coach had switched from running back to wideout toward the end of his prep days out of necessity.* "I was like 'OK,'" Montgomery told Demovsky. "And then colleges were looking at some of the older guys, and I was like 'Well, if they see me play receiver, if it ain't broke, don't fix it.' My goal [was] to play in college. I don't care where I'm playing and started going to camps as a receiver, but I was always playing running back."