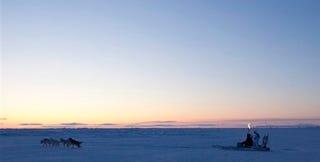 Got an image you'd like to see in here first thing in the morning? Send it to tips@deadspin.com. Subject: Morning crap.
As has become the tradition, Canada is holding a nation-spanning Olympic torch relay so that the entire host country can get in on that good old Olympic spirit. On a related note, did you know that Canada is really fucking big? And like ... really far north? I guess that even the person who lives on Resolute Bay should get to see the flame too, but man is that a hike. Sorry, but if your place can only be reached by sled dog, you might occasionally miss out on things.
You know, there's still plenty of room in Manitoba. Come on down. They won't bite.
[AP Photo/The Canadian Press, Jonathan Hayward]
* * * * *
It's Thursday. I don't need instructions to know how to rock.