After a real rough stretch, the San Antonio Spurs have stabilized and look to be safely headed towards the playoffs after four straight wins, three of which came against fellow Western Conference contenders. That's reassuring, although the team as presently constituted doesn't seem like much of a threat to the Warriors, Rockets, Thunder, or Blazers in the first round, mostly because they don't have much talent. They do have Kawhi Leonard—pictured above—on their roster, and he is a very talented basketball player. But with 11 games left in the regular season, it's still a complete mystery whether or not he'll be play.
Today, Leonard showed up to a Spurs team photo shoot. Encouraging!
However, Leonard then left before shootaround. Less encouraging! Reporters asked his teammates about his potential future availability, and the consensus seems to be, yeah, nobody really knows.
"He is not coming back," veteran guard Manu Ginobili said. "For me, he's not coming back because it's not helping [to think Leonard is returning]. We fell for it a week ago again. I guess you guys made us fall for it. But we have to think that he's not coming back, that we are who we are, and that we got to fight without him. That shouldn't be changing, at least until he is ready for the jungle."
"Nothing has changed," Spurs guard Patty Mills said. "We obviously hope to get him back, and he's told us that he has taken control of what he can control rehab-wise and injury-prevention-wise."
G/O Media may get a commission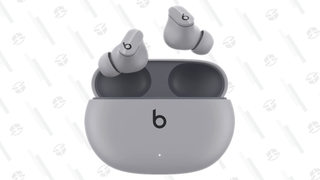 Spurs doctors have cleared him to play, and the Spurs front office has been uncharacteristically aggressive in using the media to badger Kawhi into returning as soon as possible. It seems as if Leonard is cautious about his quad and is unwilling to risk long-term damage, even if team doctors have cleared him.

[Spurs coach Gregg] Popovich said, "No, why would we do that?" when asked Monday whether there was a timetable for making a decision to shelve Leonard for the rest of the season.
ESPN did report, however, that Leonard is feeling "much better," which is a properly vague update for this very odd scenario.