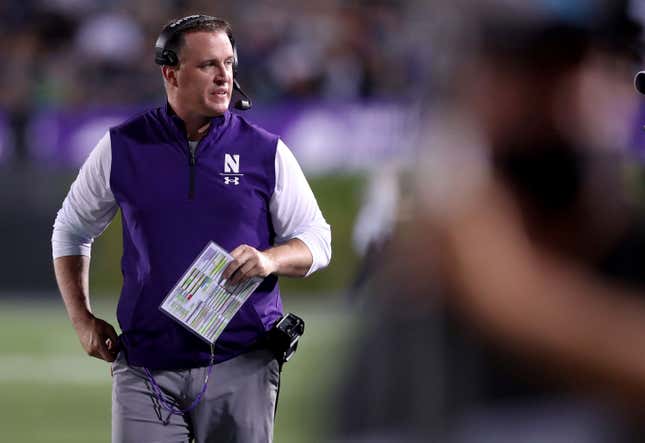 A little more than a week has passed since allegations of a toxic locker-room culture were unearthed about Northwestern's football program, leading to the hasty dismissal of head coach Pat Fitzgerald. The first lawsuit in the scandal was filed Tuesday morning against the university, Fitzgerald, and others by a former Wildcats' football player under the alias "John Doe," who was allegedly part of the team from 2018-22.
Should Northwestern have fired Pat Fitzgerald before the hazing scandal? | Agree to Disagree
The former Wildcat player alleges the defendants were negligent in preventing hazing traditions, failing to intervene in hazing traditions, as well as protecting student-athletes from acts that were "assaultive, illegal, and often sexual in nature." Doe also claims in the suit several others were subjected to hazing and abuse while playing football at Northwestern. Doe's attorneys released a statement on the lawsuit, which also claims racial discrimination by the defendants. The words "racial discrimination" do not appear in the 14-page complaint.
Here is the statement in full:
"This morning, our firms filed the first lawsuit against Northwestern University, The Board of Trustees, and now fired football coach Patrick Fitzgerald for allegations of sexual harassment, sexual abuse, and racial discrimination. It is alleged that Fitzgerald knew, enabled, and encouraged this behavior and created a culture of abuse within the football program that carried over throughout the athletic department. We intend to hold the defendants, including Fitzgerald, accountable for the alleged actions and seek justice for victims of abuse, hazing, and discrimination. Institutions, athletic departments, and coaches are responsible for creating a safe and supportive environment for student-athletes. There is no place for the vile and disturbing hazing incidents that have taken place within the Northwestern football program. We applaud the courage of our client and the others who were brave enough to speak out about their experiences in the hopes of ending these types of incidents both at Northwestern and elsewhere. We encourage anyone who may have information related to this matter to contact our law firms."
Multiple former Northwestern football players have hired attorneys for possible further legal action against the school and Fitzgerald, per the Chicago Tribune. Fitzgerald was fired July 10, with cause, by the school, meaning his contract's buyout clause of more than $40 million wasn't owed. Fitzgerald has yet to officially take legal action to recoup any of that amount. Northwestern has yet to officially comment on Doe's lawsuit.