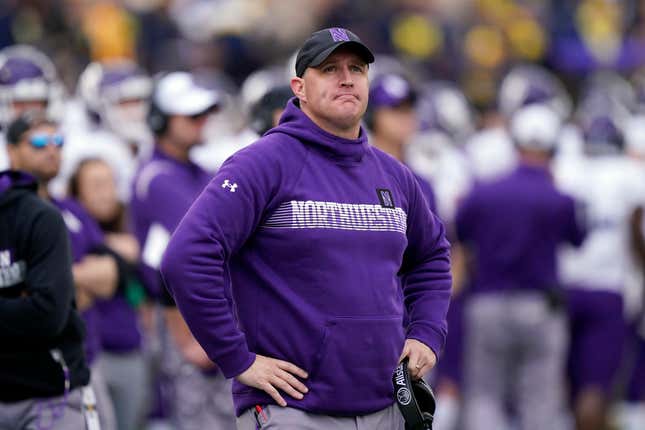 Pat Fitzgerald isn't the only one. He's just the latest one.
The "All-American boy" who played, coached, and "dedicated this life" to that Midwestern institution of higher learning that produces "the intellectual elite" and "pioneers of the journalism industry" lost his job due to allegations that make it sound like he and Jon Gruden could be best friends — two mediocre white football coaches that are accused of either being, or allowing, racism, sexism, hazing, and homophobia run rampant.

Should Northwestern have fired Pat Fitzgerald before the hazing scandal? | Agree to Disagree
The allegations against Gruden didn't involve hazing, and homophobia hasn't been mentioned at Northwestern. But, when you read all the reports, it wouldn't be shocking if more came out alleging that all of the above happened at the places these two have been.

Besides, reports of the players at Northwestern going after the whistle-blower and members of the student newspaper who broke this story, and former players running to any platform they can to take up for Fitzgerald only add more credibility to the allegations that keep piling up.

White dudes covering for white dudes is what America was built on.
"The head coach is ultimately responsible for the culture of his team. The hazing we investigated was widespread and clearly not a secret within the program, providing Coach Fitzgerald with the opportunity to learn what was happening. Either way, the culture in Northwestern Football, while incredible in some ways, was broken in others," wrote university president Michael Schill in a statement.
At the end of the day, Northwestern is a really white school where allegations have come out about how the football team — cheerleading and baseball, too — have done some things that have been allowed to go on in really white spaces for centuries. It's really bad, and sad. But it's also very American, and real.

However, the worst part is that we've seen this movie before. Fitzgerald may not be a head coach at a Power 5 school again, but his whiteness will make sure he keeps getting jobs in football.

That's not a guess either, we have proof.

Right now, Bob Huggins is in the news fighting to get his job back, trying to play the victim after being homophobic and getting a DUI. And just a few years ago, Creighton head men's basketball coach kept his job despite cosplaying as a slave owner after telling his team, "Guys, we got to stick together. We need both feet in. I need everybody to stay on the plantation. I can't have anybody leave the plantation."

In football, we watched Urban Meyer get hired, and fired, in the NFL, then re-hired at FOX to talk about football on TV. DJ Durkin ran a program so vile, disturbing, and dysfunctional that it was found culpable in Jordan McNair's death, and he's still getting jobs. Art Briles' time at Baylor may have produced the worst sexual assault case in the history of collegiate sports, and he was offered a job last year. And Iowa head coach Kirk Ferentz is still employed at a place that's made it hard for Black players, and people, to exist for decades.
We shouldn't be shocked that this happened at Northwestern under Fitzgerald's watch. We should be concerned that it took this long for us to find out.

In the next year or two, Pat Fitzgerald will wind up on TV, either as an analyst or because somebody is doing a puff piece/redemption story on him because they feel he's "suffered enough." Or, he'll get a job as a coordinator or an advisor to some big-named coach at some big-named school because they've "talked to Pat" and believe he deserves a second chance.

 It's the endless and unfair cycle that keeps white mediocrity afloat. But, if the Pat Fitzgeralds of the sports world are ever going to be eradicated it won't be because people stopped putting them on TV or gave up on giving them opportunities to "redeem their tarnished legacies," it'll be because we've reached a point in society in which coaches who care more about football than humanity aren't credible applicants anymore.