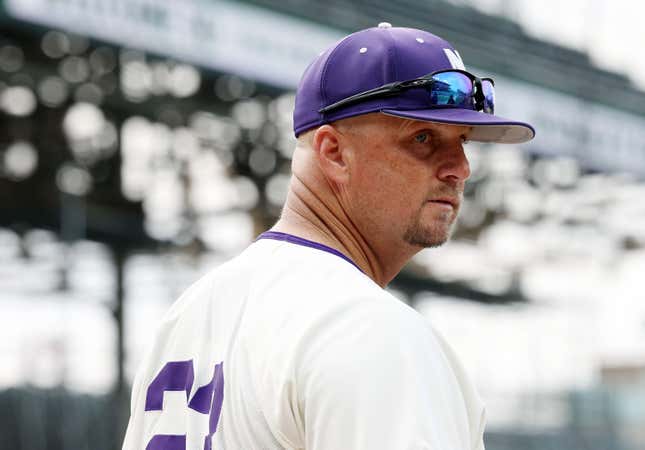 What is going on in Evanston, Illinois? Northwestern's perception as a pristine academic university that plays sports on the side had already gone through an inferno over the last week with the firing of football coach Pat Fitzgerald on Monday due to hazing allegations. Turns out, that wasn't the only Wildcat program with a head coach being reviewed by the school's legal and human resources departments, as Thursday brought the firing of Jim Foster, Northwestern's head baseball coach, for allegations of bullying and a toxic team environment. Who's next to be axed in the Chicago suburbs?
Should Northwestern have fired Pat Fitzgerald before the hazing scandal? | Agree to Disagree
AD Dr. Derrick Gragg released a statement after Foster's firing: "Nothing will ever be more important to Northwestern than providing its students a place that allows them to develop in the classroom, in the community, and in competition at the absolute highest level, and building a culture which allows our staff to thrive," said Gragg. "This has been an ongoing situation and many factors were considered before reaching this resolution. As the director of Athletics, I take ownership of our head coaching hires and we will share our next steps as they unfold."
Foster was hired at Northwestern from Army before the 2023 season and it didn't take him long to be wrapped up in controversy. Per the Chicago Tribune, Foster was investigated before the season began. The inquiry found Foster had "engaged in bullying and abusive behavior" and also made an inappropriate comment about a female member of Northwestern's staff. Why immediate action wasn't taken against Foster is unclear, but several coaches resigned from the Wildcats' baseball program in February, while Foster coached the season without any discipline from the school's leadership, per the Tribune. Northwestern went 10-40, including a 4-20 mark in Big Ten Conference play. This offseason, 16 players have reportedly entered the transfer portal.

According to radio station WSCR in Chicago, the problems for Foster went even deeper. He allegedly discouraged players from seeking medical attention for injuries, leading players to hiding their injuries from their head coach. Northwestern's other coaches and staff members reportedly tried to meet with Gragg over the issue, but were denied the chance, per WSCR. Northwestern's last game of the season was May 20, a 10-0 loss to Iowa. What took nearly eight weeks to fire Foster, other than ineptitude from Northwestern? The team sucked, the culture sucked, and the coach is responsible for it all, which is why Fitzgerald is also currently unemployed. ESPN reported Foster would've been fired earlier if it wasn't for a shift from Northwestern's legal and human resources team to focus on Fitzgerald. So what was the school's excuse for the previous several weeks?

According to the Tribune, Foster said he couldn't speak to a reporter without going through the university's communication department, citing Northwestern policy.
Northwestern is now without two head coaches because of inner turmoil within their former programs. While neither had a great record last season, Fitzgerald needed a scandal like this, or retirement, to no longer be on the Wildcats' sideline. Foster basically came into Evanston, wreaked havoc, and got fired. To have one of these cases would highly affect a school. Two within a week is nearly unheard of. Kudos for making your own brand of history Northwestern.