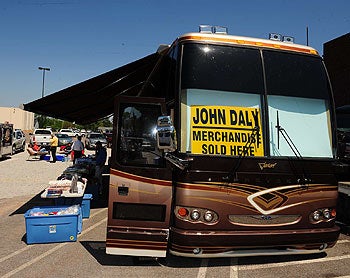 John Daly may not be allowed to play in The Masters, but that doesn't mean he can't still profit. May he interest you in some slacks?
Daly is hawking his clothing line just outside the gates of Augusta National; this photo was taken on Wednesday beside a Washington Road jewelry store, near the club. Of course it was at the Masters in 2006 when this famous photo was taken, so a John Daly clothing line being sold here makes perfect sense. Who wouldn't want to look like that?
His well-publicized antics got Daly suspended from the PGA Tour for six months; being passed out drunk outside of a Hooters is hard to top, but I also like the fact that he once returned from a rain delay with John Gruden as his caddy. Actually he's lost about 40 pounds and is planning to play in the European Tour's Spanish Open beginning April 30. I wish him luck; not having John Daly around is no fun.
From the John Daly Apparel site:
Comfort is the key ingredient in John Daly Apparel. Most items carrying the "Daly Comfort Wear" tag are made from Technical Performance fabrics that are moisture wicking, deodorizing and provide SPF protection. There are also some very high-end cotton and extraordinary specialty lifestyle shirts.
And when you're talking specialty lifestyle, you are indeed talking John Daly.
Daly Hawking Gear Outside Augusta National [Golf.com]
John Daly Makes It To The Masters — Selling Stuff [SportsbyBrooks]
Down And Out Daly Works On Shirt Game [New York Post]