Well now, isn't this getting interesting!

In case you've missed a few episodes, Sepp Blatter has been in a will-he-or-won't-he holding pattern regarding his plan to "lay down his mandate" as president of FIFA since he announced his resignation back in June. Despite the pressure from the ever-increasing number of scandals, Blatter's plan has more or less remained the same: he will continue in his role until the new election is held in February.
The clearest explanation for Blatter's change of heart regarding his resignation after for so long and so boisterously proclaiming his defiance against those who called for his job at the height of the FIFA scandal was that a number of FIFA's big-money sponsors came to him behind the scenes and gave him an ultimatum: step down or else. Where unstinting international ridicule and potential threats of arrest had failed, the men with the money bags succeeded.
It appears now, though, that Blatter's strategy of sticking around for another year, ostensibly to use his power and influence to clean house (more probably: to ensure that the structure of New FIFA doesn't interfere too much with the corrupt business-as-usual protocol he created during his decades in office, and to cover up any tracks leading back to him and those he seeks to protect) wasn't as foolproof as he predicted. While the heat has died down considerably from its peak, that's not for lack of new improprieties coming to light.
G/O Media may get a commission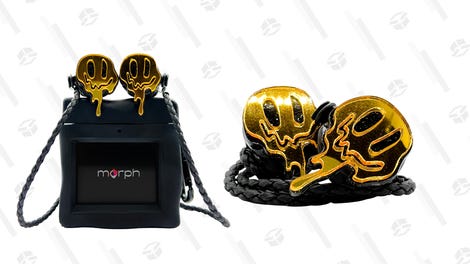 morph audio
Morph Earphones
The most recent and potentially damning revelation involves Michel Platini, the current president of UEFA and until very recently a shoe-in to assume his old buddy Blatter's position at the head of FIFA. Last week, Swiss officials opened a criminal investigation against Blatter stemming from a 2011 FIFA payment of two million Swiss francs to Platini. The Swiss police suspect this was some kind of loyalty bonus paid to the Frenchman for both his help in getting Qatar's bid for the 2022 World Cup accepted and for his word that Platini would not run against Blatter in the then-impending FIFA presidential election.
Platini and FIFA contend that the money was for services performed for FIFA between 1999 and 2002, though they've been unable to explain why a super-rich organization like FIFA couldn't pay him until some 10 years later. FIFA itself has opened an internal investigation on the matter and should they suspend Platini for his involvement, he would be unable to stand in the next presidential election.
It appears The Brands have had enough. In separate statements, Coca-Cola, McDonald's, Anheuser-Busch, and Visa have called for Blatter's immediate resignation. They all mirror the language used here:
And while Blatter was (allegedly) responsive to his organization's sponsors' earlier requests to step down, he's not willing to go down so easily this time:
More interesting than these Brands' effete attempts at co-opting some good PR by only now taking FIFA corruption Very Seriously—interesting timing there, Coke; but come 2022, in the post-Blatter world that was inevitable anyway, will your logo still be found plastered all over the badass new hotels and stuff built by Qatar's slaves?—are the behind-the-scenes machinations.
Did Visa and McDonald's and the like, sensing the opportunity for some good publicity, go straight to the papers after these newest allegations, or did they first try a quieter tack like during their original come-to-Jesus meeting that (allegedly) convinced Blatter to step down in the first place? With Blatter sticking to his guns, will we see any actual consequences in terms of sponsorship? Or will this stand merely as a bunch posturing, The Brands now claiming to have done their best to kick that rogue scoundrel Blatter out of bed before snuggling right back up to a "changed and completely different, they swear to us" FIFA come February? And does Joanie still love Chachi?
For answers to these questions and more, tune in next week to The Old And The Craven!
[BBC]
Photo via Getty