So… Kirk Cousins. It is extremely difficult—impossible, even—to evaluate Kirk Cousins solely as a quarterback when, for the past six seasons, he has plied his trade in the middle of Dan Snyder's never-ending diarrhea rodeo. He was drafted by Mike Shanahan in the fourth round as an insurance policy for the quarterback that Shanahan drafted in first round. After that first QB broke both his knee and his frontal lobe, Cousins found himself in the middle of a quarterback controversy fraught with standard local fan irrationality and no shortage of racial subtext.
And then, once he formally supplanted Robert Griffin III as the permanent starter, he found himself in a strange new power struggle with Skins' upper management, refusing to play for less than he was worth and being subjected to Bruce Allen's drunken asshattery as a result.
As such, for nearly the entirety of his playing career, Cousins has been less a quarterback than an ongoing litmus test for fans, coaches, analysts, and team executives. He's a walking emotional gauge for the tape-eater set. Do you think a quarterback willing to call management's bluff and play under the franchise tag, one year at a time, is hurting his own team? Do you think all of Kirk's YOU LIKE THAT?! talk is a sign of competitive fire, or just GLORY BOY SHOWBOATING? Can a football team actually be good if it gives a QB a reported $84 million fully guaranteed? I enjoy hate-listening to sports talk radio here in DC, and for the past few years virtually every segment here has begun with a host sighing into a microphone and saying, "Okay, I know you guys are sick of us talking about Kirk, BUT…"
In the meantime, Cousins has thrown for 4,000 yards each of the past three seasons (I like me a QB who throws for big yards; when you a have QB who can't, it's agony), broke many of Washington's single-season passing records, and handled the surrounding shitshow with some measure of grace and tact. He also shoved a ref, but I am not necessarily against such actions. He limped over the 4,000-yard mark yet again this season even though every other player on the Skins offense got hurt and/or died. He has also never missed a game, which is a near priceless quality for an NFL quarterback to have.
It's hard to make a convincing argument that Cousins succeeded because of the Skins and not despite them. His GM got canned and then smeared as a drunk. He lost his best offensive coordinator to the Rams. His run game support was inconsistent at best. And yet, he remained prolific. He is also an extremely corny man, but he seems nice enough.
G/O Media may get a commission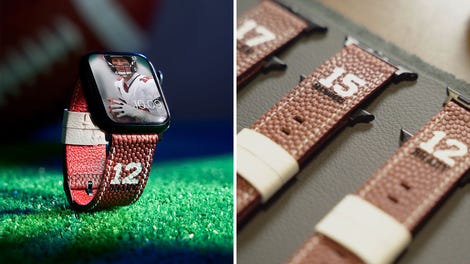 Official NFL PRODUCTS
Official NFL Apple Watch Bands
It is extremely weird that Kirk Cousins, the man who did the above tweet, is going to go down as one of the most revolutionary players in NFL history. But, in accepting nothing less than a fully guaranteed contract, he has scored an enormous victory for his fellow players and perhaps changed the way that NFL contracts are negotiated for years to come. This man used his leverage when using your leverage in the NFL will get you branded a troublemaker, and he was rewarded for it. That's a very welcome development.
What's not anywhere near as clear is if any of this will actually help the Minnesota Vikings, you know, win a Super Bowl. If you go by the numbers, Cousins is better than the man he replaced, Case Keenum. He can throw for a shitload more yards, and he doesn't need a perfect offensive line in order to do so. Once the Vikings lost guard Nick Easton late in the season, Keenum became a far less efficient passer. Cousins can absorb those losses, and he's in a very good position to take advantage of wideouts Adam Thielen and Stefon Diggs, who already make average QBs better than they really are. Also, the Vikings haven't necessarily splurged on Cousins at the sake of keeping the rest of their core, defense especially, intact.
I am in a rather strange position here, since rooting for the Vikings is my first priority as a fan and hating the Skins is pretty much my second priority. I have wanted Cousins to fail for so long, I don't quite know how, as a human, to welcome him as a proverbial Last Piece of the Puzzle. HOORAY? is about the best I can do. Cousins was something of a victim of circumstance in Washington, but he is also prone to throwing hilarious, terrible interceptions… the kind of blind picks that delight me so long as they are not thrown by my own quarterback. His winning percentage against teams above .500 is also notably atrocious… one more litmus test in case you were looking for one.
Many great players have tried, and failed, to bring the Vikings a championship over the past few decades: Fran Tarkenton, Chris Doleman, Randy Moss, Brett Favre, Adrian Peterson, John Randle and on and on and on. Thus far, Kirk Cousins hasn't been as good as any of those players. But, for the very first time, he'll be operating on a somewhat functional team, and he'll be free of the vast, remarkable cloud of bullshit that engulfs his former team on a near-daily basis. I know he'll eventually rip my heart out, but I'm looking forward to seeing just how he'll do it. My only certain take is that I feel a whole lot better about Cousins as a Viking than Cousins as a Skin. I bet the rest of football feels likewise.