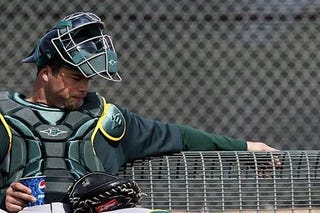 Will Leitch will be previewing/musing on every baseball team each weekday until the start of the season. You can pre-order his book and follow him on Twitter. Today: The Oakland Athletics.
Eventually, the A's are going to leave Oakland. No one knows when this is going to happen, or where they're going to go, but once everybody figures out how much cash gets left in each kitty, and which housing project gets to be torn down for a "ballpark village" that will never end up being built, the A's are gone. Though San Jose is the most likely destination, but, as Baseball Prospectus 2010 argues, it seems smarter for them to leave the Bay Area altogether — something about Billy Beane in Portland makes sense — but that's a decision that, while inevitable, isn't pending.
It stands to reason, then, that the team you're watching right now, the one with the green uniforms and tarp on the upper deck that makes it so much harder to get stoned there, it will someday cease to exist. Unless they're the Raiders, no team keeps the same identity when they move. There's no crossover between Thunder fans and NOOCH fans. The Ravens just pretend their time in Cleveland never happened. Most people I meet in Arizona don't even know the Buzzsaw lived in St. Louis at all. (To be fair, neither do most people I meet in St. Louis.) When a team moves, they not only break their fans' hearts, which is bad for them, they erase a part of our history, which is bad for all of us.
Close your eyes. How well can you conjure up images of the Montreal Expos, or Olympic Stadium, or Rock Raines? (Stay out this, Jonah Keri.) You can, ultimately, but it takes a while. The Expos have faded into this weird historical aberration: Hey, they used to play baseball in MONTREAL. They speak French there. That's hilarious. Like THAT was gonna work. It did work, for a while it worked quite well, but nobody remembers that now. The Expos are a funny thing that happened on the way to revenue sharing. Andre Dawson didn't even want to wear their hat on his Hall of Fame plaque. He preferred the Cubs. The Cubs!
When the A's move, this is going to happen to them. We'll laugh about the crazy '70s teams, about the elephant on their jerseys, about the Bash Brothers, about Jose Canseco dating Madonna, about that book by that guy about that strange time in baseball history when teams without money could actually compete, ha ha, ho ho, about the earthquake during the World Series. (All right, we might not joke about the earthquake.) It will all seem quaint, old, all rather silly, when you think about it. There will be diehards that hold on, who wear their A's jerseys proudly for a while, then ironically, and then they'll just store them in the closet or sell them on eBay. It's all quite sad.
I'm not sure there's a team's fans I enjoy more than A's fans. There might not be very many of them, and particularly not very many of them who live in Oakland (the A's are unique in having a fanbase that's almost geographically free-floating), but, from my experience, they're among the most intelligent, passionate and zany in all of sports. I mean, they're making fanposts about sock puppets over there. I want to hire an A's fan to be my friend.
They're a little similar to Expos fans, really. To be a devoted fan of the Oakland A's, you have to want it. You have to dive in and study, obsess, learn the minor leaguers, find goofy upstart kids you love, your tubby Landon Powell, your scrappy Mark Ellis. You have to do that to be a devoted of any team, of course, but with the A's, there's no choice. You're always starting from scratch: You're never asking if someone is a True Athletic, because there's no such thing. It's a team of transients and wannabes. These are terrifically fun teams to cheer for; you're always the plucky underdog.
Just like the Expos. We've seen what happens when you're the plucky underdog for too long, particularly if you don't sell enough luxury boxes. It's going to happen. Everyone knows it. And no one seems to care. It's awful.
You probably won't go out to Oakland-Alameda County Coliseum, and you probably won't stay up late enough to watch a lot of A's games this year, and this team probably will be lucky to touch .500 this year. It is very possible that the most attention you will pay to the A's this season will be to see if they will trade Ben Sheets to your team. (This is essentially how I paid attention to the A's last year.) But you should appreciate them. They won't be forever. Them elephants, they're endangered.