Just before the NBA season started, the San Jose Mercury News reported that several Bay Area politicians had been abusing their access to Warriors tickets, using them to grease political wheels and pay off personal debts. The stadiums that the Warriors, A's, and Raiders play in have clauses in their contracts that allow public officials to use luxury box seats to inspect the arena, as well as distribute tickets to groups like schools and children's organizations. The "governmental purpose" clauses that open up access to free tickets are somewhat broadly defined, which has reportedly allowed several officials to take advantage

Jokic? Embiid? The NBA MVP is obvious... right? | Keep it a Buck(et)
As the Mercury News reported, officials did not follow the rules, instead using tickets to pay off debts, court political donors, or straight up sell them online.
Alameda County Supervisor Richard Valle gave four tickets to the Warriors-Cavaliers Game 7 of the NBA Finals — worth $10,000 a pop — to a local artist who had painted a portrait of his wife. Fellow Supervisor Scott Haggerty sent a retired Dublin businessman to whom he owes money to six games over the last three seasons. Tickets in the county's luxury box for a showdown with the San Antonio Spurs even turned up on eBay — a clear violation of rules that govern how the suites are used.
G/O Media may get a commission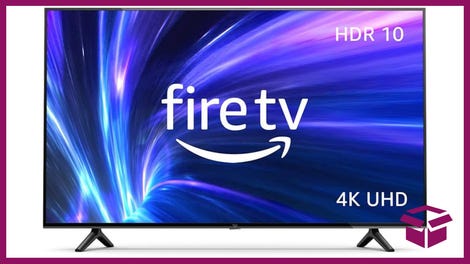 42% Off
Amazon Fire TV 50" 4K Smart TV
Seven public officials have claimed more than $250,000 in free tickets over the past three years. Warriors tickets are among the most expensive in the NBA, and many families across the Bay Area are unable to afford them. City tickets are traditionally given to local organizations or students, and the transgressions of a handful of politicians prompted he Oakland Public Ethics Commission to take a look at the practice. They were not happy.
The East Bay Express ran a story about the Commission's meeting last night, wherein Public Ethics Commissioner Steven Shefler ripped into city officials for abusing their access to free tickets.
"The only reason they're going is to enjoy the liquor and the food," Commissioner Stephen Shefler said during an informational hearing at City Hall. "These people are 99.9 percent enjoying the game and one-tenth of a percent of the time doing oversight."

Fellow Commissioner Dana King also expressed her disbelief with the latitude officials have with free tickets.
"Members of the marijuana commission are not getting free pot. The Art Commission doesn't get free works of art. Why does this commission get free tickets?" she asked.
Despite all the public outcry and the findings of the Ethics Commission, officials have apparently not stopped receiving free tickets. The Express reports that three Oakland City Council members are going to watch the Warriors play the Rockets tonight.