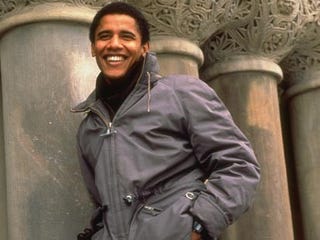 A couple of weeks ago, Barack Obama appeared on Philadelphia's 610 WIP sports radio station and made a somewhat controversial statement about his grandmother being a "typical white person," which got everybody all fired up. (Ironically? Most of them were typical white people.)
But Obama bravely returned to that station this morning to talk about more appropriate sports-related topics, like, uh, sports. Obama made some small talk, joked about his terrible bowling skills, and also said that he'd rather be a professional basketball player than leader of the free world. Specifically, Julius "Dr. J" Errrrrrrr-ving:
"I think any kid growing up, if you got a chance to throw down the ball from the free throw line, that's better than just about anything."
Hopefully, he doesn't plan on emulating the Doc's off-court behavior, which entailed stealthily impregnating female sports reporters.
Where is Alexandra Stevenson these days, anyway?
Obama tells WIP he'd rather be Dr. J [Inquirer]
Audio of the interview [The 700 Level]