Blake Griffin will soon have a harder time getting guest appearances on Comedy Central shows, because according to Adrian Wojnarowski, the Clippers have traded Griffin to the Detroit Pistons in exchange for Tobias Harris, Avery Bradley, Boban Marjanovic, and a pair of picks.

Griffin has spent the duration of his career in L.A., and he's made five All-Star teams. Despite losing Chris Paul, the Clippers have remained competitive this season, largely thanks to Griffin's excellent play. He has struggled with nagging injuries over the past few seasons, and he signed a five-year, $171 million deal with the Clippers this summer. The details of Los Angeles' free agency pitch are funny in retrospect, since they traded him only a few months after simulating his number being retired:
When Griffin arrived at Staples Center for his free-agency pitch meeting on July 1, he found the Clippers had erected something of a maze for him with temporary walls. Griffin walked his 3-year-old son, Ford, through the art gallery-style corridors, and found photos hanging at each turn: Griffin on his green Huffy bike with his brother, Taylor, when they were kids; Griffin playing in college; Griffin as a Clipper.

The maze spit Griffin out onto a couch overlooking the Staples Center court, above the lower bowl. Crowd noise pumped in. The team's public address announcer declared the Clippers were retiring Griffin's number. Team employees raised an actual banner into the rafters — a vision of the future they wanted.
Despite hovering around the playoff periphery and looking like a solid bet to make it now that DeMarcus Cousins is out with a torn Achilles, the Clippers are blowing it all up. Griffin has been the face of the franchise for almost a decade, and he's been there throughout the Clippers' rise from total joke owned by Donald Sterling to Western Conference contender. The team seems to be starting a full rebuild, however.
G/O Media may get a commission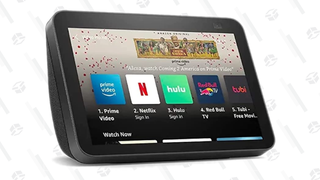 Harris is fine and Bradley can be a very good defensive player, but this deal is all about the future for L.A. As for the Pistons, their roster is pretty bare, since Henry Ellenson, Luke Kennard, and Stanley Johnson have yet to do much of anything. Griffin can be one of the very best players in the NBA when healthy, and he should elevate Reggie Jackson's game. However, they still have a steep hill to climb to get to the playoffs this season.