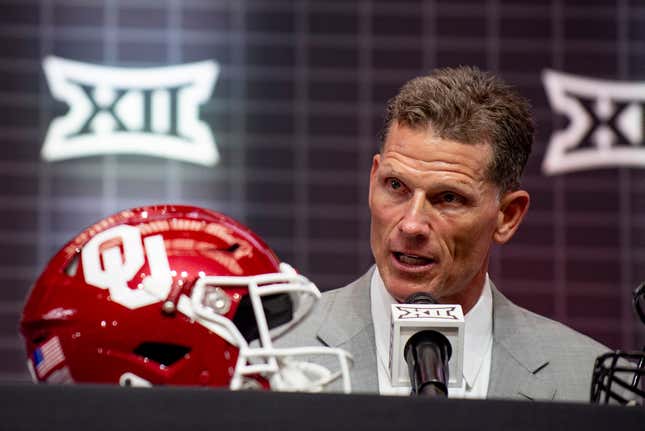 This time last year, no college football writer had Oklahoma coach Brent Venables, or Miami skipper Mario Cristobal on their annual hot seat list. And for good reason as both coaches were in the first season of their respective contracts. Well a year and 14 losses combined later, any realistic fan or writer wouldn't flinch at seeing those names on a list of warming posteriors.
How running an NFL team is like running a restaurant | Chef Emeril Lagasse
That's why it was a little odd to hear Venables go out of his way to take a shot at Cristobal's program during Big 12 media days this week.
"6-7, none of it's any good, right?" Venables said during an interview with SiriusXM, referring to his record. "But had we gotten blown out by a Middle Tennessee, had we gotten beat by Florida State 45-3, the conversation is probably a little different."
Wow… The stones on this guy. Does he not remember that he lost 49-0 to his school's biggest rival? Or that another loss like that to Texas, and he won't be welcome in Norman? The Sooners started off 3-0 against light competition, and then went 3-7 down the stretch, barely making a bowl game. That contest, the Cheez-It Bowl against Florida State, also ended in a loss, but I guess the coach felt good enough about his margin of defeat (35-32) to denigrate Miami.
Taking potshots at the Canes doesn't offend me. I'm indifferent to Miami and Oklahoma. If I had one life raft and both were drowning, I'd save the flotation device in case my ship goes down. (If they're both capsized, the sea has to be pretty choppy, right?)
However, the comment feels a little cavalier considering Venables inherited a superior roster, and has sucked just as much. During his team's three-loss streak against Kansas State, TCU, and Texas, the Sooners were outscored 145-58.
What's up Venables' ass?
While it feels like the Hurricanes caught a stray, there's been speculation (via 247 Sports) that recruiting battles between the two schools led to heightened emotions. The weird thing is Oklahoma has been on the winning side of those exchanges thus far, nabbing four-star tight end Davon Mitchell and three-star defensive lineman Jayden Jackson.
Perhaps the ongoing animosity is because David Stone, a five-star D-lineman and 10th overall prospect in his class, is still undecided, and took visits at both universities in June. Or maybe it's a carryover from Venables' time in the ACC at Clemson.
He was with the Tigers for almost 10 seasons, and, well, that's about it. Miami hasn't been a contender in at least a decade, so it's not difficult to spit on them while they're down, but they're such an easy mark that it feels beneath a program as well-run as OU.
The 2022 season was the Sooners' first year under .500 since the late '90s, and you know there's not a drop of apathy in that fanbase at the moment. So when Venables says the conversation surrounding Miami and Oklahoma is "probably a little different," he's not putting it in proper context.
There might be more pressure on him than Cristobal because the standards are still on the level of Lincoln Riley and Bob Stoops, and the talent isn't that far off either. Preseason top 25s have begun to trickle out, and a couple outlets deemed Oklahoma a top 15 team despite what happened a year ago. To further my point, I haven't seen Miami sneak into one yet.
In any case, if both of these storied programs finish below .500 again, whatever goodwill or grace period currently allotted to the head coaches will be gone, and they'll be the faces of the next season's hot seat list. For Brent Venables, maybe hold off on inviting criticism until you do something worth bragging about?