Oklahoma Sooners quarterback Baker Mayfield is in an Arkansas jail after Fayetteville police accused him of public intoxication, disorderly conduct, fleeing, and resisting arrest.
The Oklahoma athletic department did not immediately respond to a request for comment; Fayetteville cops say a full report for the incident will not be made available until Monday morning, but Mayfield's basic arrest information is on the sheriff office's website here.
Mayfield is an early favorite for next year's Heisman Trophy after passing for nearly 4,000 yards last season.
Update, 11:30 a.m.: The Oklahoma athletic department has responded with a brief statement—"We are aware of the matter and are learning the details. We don't have any other information at this time."
Update, 12:15 p.m.: Oklahoma City radio reporter Dylan Buckingham has obtained an excerpt of the police report:
"I asked Mayfield to stop and talk to me. Mayfield stated he was trying to break up an altercation that had occurred prior to my arrival. I asked Mayficld to stay so I could take his statement for my report. While talking to the other party involved. Mayfield was yelling profanities and was causing a scene. Mayfield was intoxicated. When he first came over to me. he had difficulty walking down a couple stairs. Mayfield's speech was slurred and he had the odor of intoxicants coming from his person. The front of Mayfield's clothing was covered in food. I told Mayfield to come over to me. When l gave that command. Mayfield began to walk away from me. I repeatedly told him to stop. Mayfield then began to sprint away. I chased alter him. Mayfield was tackled to the ground. While on the ground. I gave repeated orders for him to place his arms behind his back. May field kept his arms locked tight and would not allow me to place his arms behind his back. I eventually forced Mayfield's ann behind his back. I then placed him in handcuffs."
G/O Media may get a commission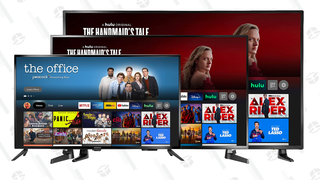 Up to 44% off
Prime Early Access - Insignia Fire TVs