Last summer in Rio, Brianna Rollins led an American sweep of the 100-meter hurdles, winning the gold in 12.48 seconds. Yesterday, an arbitration panel handed her a year-long drug ban—even though she never tested positive for any banned substances. She'll miss the entire outdoor season this year.
Rollins passed 16 drug tests last year, eight of them in competition. But she also was marked unavailable for testing three times last year, which under the world anti-doping code counts as a drug test failure.
Two of the missed tests came after she won Olympic gold. One was when she was traveling to Miami for "Brianna Rollins Day." The other was when she visited President Obama in the White House. The missed test in April of last year came when she was competing in the Drake Relays.
The missed tests were indeed Rollins's fault, but her mistakes were exacerbated by a confusing system. On the U.S. Anti-Doping Agency website, athletes have accounts so they can log in and let testers know where they will be. In the case of the April test miss, she'd selected on a drop-down menu that she would be competing at the Drake Relays that weekend. But she neglected to remove a 60-minute time slot in effect where she was supposed to be at home so USADA could show up to test her. Rollins said she thought selecting the competition would also remove the 60-minute time period where she was supposed to be at home.
So it seems this was more of a misunderstanding than an attempt to evade a test. That does not matter, per world anti-doping rules. An arbitration panel wrote, "It does appear that the anti-doping agencies and other authorities could have done more to help her; but the duty to comply remained hers.
G/O Media may get a commission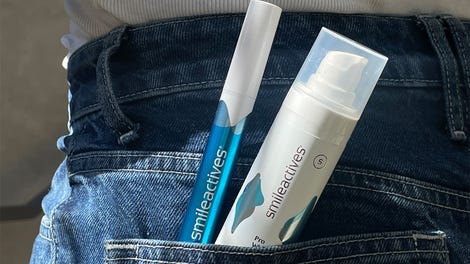 58% off
Whitening Powerhouse Pen & Gel Duo
"Due to her failing to make any effort to update, as she knew the rules required, [Rollins] has not met and cannot meet her burden to show by a balance of probability that no negligent behavior on her part at least contributed to her failure to be available and her failure to update her whereabouts filing."
The USADA agreed that Rollins is not suspected of doping, and the panel wrote that "she shows no evidence of avoiding testing, masking drug use, or using drugs." But she'll serve a suspension until December 2017, a year after she was first notified that she had three missed tests.
"I accept full responsibility for the mistakes that have led to my suspension, and am disappointed that I will have to miss this coming outdoor season, as a result of my confusion over how the whereabouts program worked," Rollins said in a statement. "I have always been and continue to be a supporter of USADA and their fight to keep our sport clean, and I will continue to do my part to prove that success can be achieved without taking any shortcuts.
"This is a very unpleasant experience, but I am able to see where errors were made. Understanding this will prevent any similar issues in the future, I will accept the sanction and work to prepare myself for my return in 2018."

She also urged other track and field competitors to be aware of the mistakes that led to her suspension. Meanwhile the sport of track and field will be without the reigning 100m Olympic hurdles champion—one who has not been suspected of any wrongdoing—for a year. Good job, everyone.