Welcome to the Deadspin 25, a college football poll that strives to be more democratic and less useless than every other preseason poll. Leading up to the college football season kickoff, we will give you previews of the 25 teams that you, the readers, voted to be most worthy of writing about. Now, No. 1 Central Florida.

Who the hell else did you expect?
Since Deadspin voters (or one singular deranged voter, more likely) stuffed the ballot for the Knights in 2015, and every year since, the program has done nothing but ascend to the icy peaks of college football. Whether those two things are related remains unclear, but if you want to credit this fine website's readership with the program's success, I won't stop you.
UCF finished totally defeated that first season of the Deadspin 25, going 0-12; honestly, it felt like a great omen and an even better way to kick off this particular project. Then, the ballot was stuffed again in 2016. Not ideal, I thought to myself, but this is a democracy, dammit, and who am I to stand in the way of the will of the people? The Knights finished 6-7 that year, which was fine, but nothing particularly exciting if you lived outside of Orlando, and even then, you probably had to live in that mall of a campus to give a shit. Then came 2017.
UCF, again the No. 1 team in college football as voted by you prescient ding-dongs, finished 13-0, running the table in the AAC and claiming both the conference and national championship, the former in actuality and the latter in a slightly-annoying-but-cheerfully-anti-Power Five voice. The Knights only amplified their discontent when they trounced Auburn in their bowl game, clamoring to be included in the conversation with Alabama and Georgia and Clemson and Oklahoma. The shouting mercifully dissipated over the offseason but the message was clear: Pointless and exclusionary preseason polls like the Coaches and AP are indeed pointless; the only thing you can trust in this world is an easily manipulated poll run by a dick blog. At least, that was my takeaway.
G/O Media may get a commission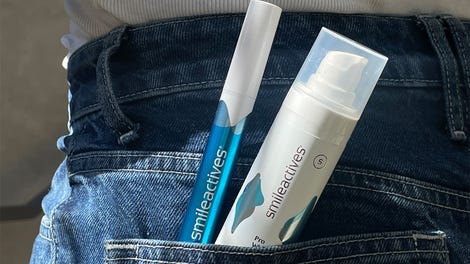 58% off
Whitening Powerhouse Pen & Gel Duo
This brings us to 2018, when once again the Knights have been deemed, by y'all and now everyone else, to be the (or at least a) premier college football program. While their run atop the Deadspin 25 is unprecedented and understandably distracting, it's important to also recognize that UCF's on-field product appears to be closing in on an honest-to-God powerhouse. So then, it's perfect timing to see if the recruiting in-roads made over the last four cycles can withstand the loss of the coach that made their ascent possible.
UCF lost head coach Scott Frost over the offseason when he smartly decided to cash in his chips and head to Nebraska. (There is no loyalty in college athletics, always cash your chips in.) This thrust former Oklahoma All-American quarterback Josh Heupel into the role of head coach for the first time in his career. Lucky for the former Sooners quarterbacks coach and co-offensive coordinator, he's got the perfect man under center to sling the ball around the field just how he likes it.
Junior quarterback McKenzie Milton returns to run the offense for the third consecutive season. Milton was part of the 2016 overhaul, when the Knights decided to lean heavily on young talent like the freshman quarterback and were repaid by going from 0-12 to 6-7. In his sophomore campaign—you know, the undefeated one—Milton was nothing short of amazing, completing 67.1 percent of his passes and throwing for nearly three scores every game. Not too shabby when you consider he tossed just nine picks in 395 total attempts. More on him in a bit, but as long as he's healthy, this offense is going to hum.
It'll also help that the Knights return three starters on an offensive line that allowed just 13.0 total sacks in 2017 and pushed the ground attack ahead to the tune of 199.2 yards and three scores per game. That'll be good news both for Milton and running backs Adrian Killins and Otis Anderson. Killins is the top back here, and while this is still a pass-first offense, he and Anderson were still relied on to produce a combined 1,284 yards and 14 scores last year. With this line, I'd expect both backs to keep their yards per rush numbers well above 6.0, as they did all of last season. With a passing game like this, that's all you need.
Out wide, Milton spent the offseason learning to live without receiver Tre'Quan Smith and tight end Jordan Akins, both of whom departed the Knights after last season. The hole left by Smith is sizable considering he was Milton's go-to guy all of 2017, finishing with 1,171 yards and 13 scores. This places the onus on Dredrick Snelson to step up and be the next big thing for the Knights. Snelson was the No. 2 receiver on the No. 1 offense in the land a year ago, so UCF fans should feel pretty good about this one—Snelson's showed he's got both the ability to make show-stopping big plays and contribute weekly as a mid-range to deep target. The wideouts will be bolstered by the transfer of former Ole Miss receiver Tre Nixon and the return of sophomores Marlon Williams and Gabe Davis. In their Week 1 romp, Nixon led the team with 101 yards and two touchdowns on five catches; Snelson was right on his heels with six catches for 90 yards.
It's tough to point at a team that went 13-0 and say "be better!" but if there was one area to shore up, it's just in reining in offenses that a program hoping to compete in the playoff should stuff on every single play. For instance, in their Week 1 rout of UConn, the Huskies struggled to punch it in but managed to run up and down the field, compiling 456 total yards of offense in the season-opener. Most of that comes in the passing game, as teams feel the pressure to constantly air out the ball to stay in-step with UCF's offense. But, again, as long as they don't let those turn into scores, the team will be fine. In the secondary, Mike Hughes and last season's hero against USF is gone at corner, leaving the leadership and standout responsibilities to safety Kyle Gibson. Look for Nevelle Clarke to potentially be the replacement for Hughes.
Typically, a defense that finds itself suddenly lacking linebacker Shaquem Griffin would be one you expect to regress; that may not be the case with UCF. Despite Griffin's departure, the Knights return a strong linebacking corps, starting with true middle linebacker Pat Jasinski, who proved with his team-leading 11 tackles against UConn that he's the perfect person to hold down the center of the new defense. Jasinski will pair with Titus Davis and Alabama transfer Shawn Burgess-Becker to round out the middle.

The defense switched to a 4-3 this year, a switch made no easier by the loss of Jamiyus Pittman and Tony Guerad on the ends; Pittman was second on the team behind Griffin with 4.5 sacks last year. In his place, Eric Mitchell appears ready to take the next step and be the disruptive force in the backfield that UCF desperately needs from its big boys in the trenches. He'll be helped by tackle Trysten Hill's return.
A Guy To Know
McKenzie Milton is about as close to a sure thing as you're going to find in either Group of Five or Power Five football these days; it wasn't always that way.
Milton was part of the 2016 freshman class that burst onto the scene and proved that there were wins to be had in Central Florida. The first year came with the usual growing pains—the touchdowns weren't bountiful or easy, with just 10 of his strikes finding their way to the end zone, and the turnovers, while not terrible for the number of times he was asked to drop back, came at too high a clip. But there were flashes in that so-so opening year that showed Milton was the right choice by Frost. The 2017 season was simply confirmation.
Milton doubled his total passing yards, almost quadrupled his touchdowns, steadied his turnovers, and bumped his completion percentage by a full 10 points. He went from being a nobody to one of a handful of players to be considered as a Heisman candidate. It was as great a jump as any college quarterback can be expected to make, and now he's back for his junior season to see if he can somehow top it. You may not get a chance every week to watch his games, but if you do, you should definitely tune in, because this guy, and this team, are fun as hell.
Can They Make The Playoff?
Honestly, I'm not sure. If the question was "Does UCF have the talent to win a playoff game?" then it's an easy Yes, as it turned out to be last year. But, unfortunately, until the playoff is expanded or UCF drops about three conference games in favor of some top-tier competition, the question's answer will remain in the hands of the playoff selection committee; if you think they're going to open the door to someone who doesn't directly help the Power Five retain their steel grip on the finances that fuel college football, you're dreaming. That said, I would fucking love to be proven wrong and see UCF in the playoff, because, in theory, that's exactly why the hell you have a playoff. If they continue to blanch at the idea, then worry not: The Knights will always be the No. 1 team in the nation as long as this blog is still kickin'.
The Assistant Coach Tweet Of The Day
Cool your jets there buddy, you've already won the Deadspin 25. Don't get greedy.
Schedule

Aug. 30: @ UConn (W 56-17)
Sept. 8: S.C. State
Sept. 15: @ UNC
Sept. 21: FAU
Sept. 29: Pitt
Oct. 6: SMU
Oct. 13: @ Memphis
Oct. 20: @ ECU
Nov. 1: Temple
Nov. 10: Navy
Nov. 17: Cincinnati
Nov. 23: @ USF