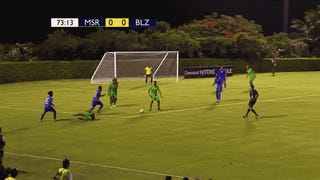 The history of the Montserrat soccer team is brief and inglorious. The tiny Caribbean nation has only been competing on the international stage since 1991, and in that time they've played 36 matches, managed just five wins, scored 33 times, and given up an eye-watering 161 goals to opponents. We aren't exactly talking about Brazil, here.
The Emerald Boys' most famous match was a friendly in 2002 dubbed "The Other Final"—a named it earned by being held on the same day as that summer's World Cup final. The match pitted Montserrat against Bhutan, then the two lowest-ranked national teams by FIFA. Montserrat lost the match, 4-0.
But it hasn't been all bad for Montserrat, at least not of late. The team, currently ranked 205th out of 210 qualifying FIFA nations, nabbed that latest victory of theirs just this weekend in a 1-0 win over Belize. Being that it was only the fifth match the country has ever won, and that Spencer Weir-Daley's winning strike was a gorgeous, flat-out perfect curler from the top of the box, this should go down as one of if not the best goal in Montserrat's history:
Now if only those pesky volcanoes could be quiet for a couple hundred years, maybe Montserrat could build on this.