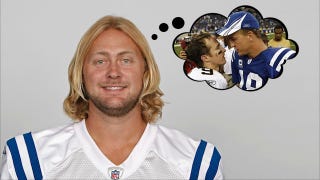 It's finally here. The matchup no one waited for. We'll make light of it in the comments. Come on, it'll be a blast!
Indianapolis at New Orleans (NBC): So, I wanted to talk about this new advertisement featuring Drew Brees. The one where he is training like a big, tough NFL player in all kinds of terrible weather. Rain, sleet, snow and probably giant tractor trailer tires that he has to run through. Real serious shit.
Aside from the eight home games that are in a dome, the Saints also play division games in Tampa Bay, Atlanta and Carolina. So nine dome games, two warm weather. But what about the other games, you ask? Oh, I'm glad you asked. They were/will be at Green Bay (in September), at Jacksonville earlier this month, at St. Louis and Minnesota (domes) and Tennessee. That's 11 games in a dome, three warm weather (plus one in a warm Green Bay) and a game in Tennessee in December. Does it get cold in Tennessee? Who knows. The commercial is dumb and I proved it with research. Enjoy the game!