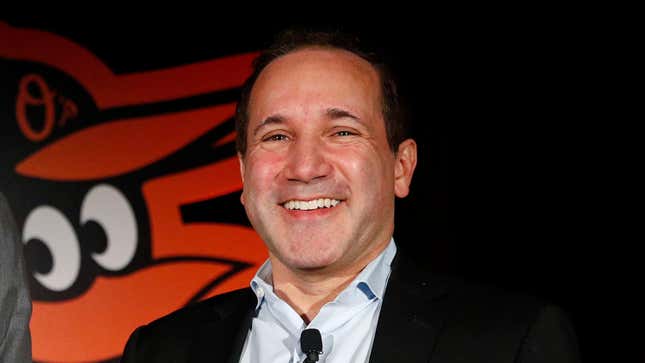 Update (8/8/23, 1 p.m. ET): Kevin Brown will be returning to the Orioles booth on Friday, according to The Baltimore Banner, in a development that seems conspicuously timed following the widespread and unanimous criticism aimed at the organization. It remains clear, though, that John Angelos is a total crybaby loser with a paper-thin ego.
World Series Stats That Will Blow Your Mind
---
It is a rare achievement to get baseball to unite on something. Even during labor stoppages, when it's obvious the owners are warping the game we all knew and loved into something that only benefits them, there are still many water carriers for a cabal of billionaires that would piss on all of them for five bucks. Anything controversial that goes on with baseball is usually tiptoed around on broadcasts, announcers fearing their overlords both within the organization, the networks, and the league office.
But step on one of their own, and baseball announcers will come for you.
The Baltimore Orioles would have been high on the list of teams you'd expect to fuck up in the most petty and laughable way possible. They've already treated us to a giant manbaby fight in their ownership group, betrayed their fans when the team simply became too good too quickly and the front office was instructed to basically ignore that fact, and even put out whispers about moving to Nashville even though they play in what is still one of the crown jewels of the league, Camden Yards.
They somehow got sadder when they "suspended" TV play-by-play man Kevin Brown for merely pointing out in a pregame stand-up that the Orioles' record against the Tampa Bay Rays the previous seasons wasn't exactly glittering and improved this year. Apparently, pisshead failson John Angelos didn't like hearing how he'd been in the captain's chair while the team fielded a weak excuse for a Triple-A team in recent memory, and Brown hasn't been heard on TV since. That news leaked out last night, and the response was universal:
Boy, if only we could get them united on the stupid runner in extra innings!
The one part of this that makes it comedic is that Brown's note about the Orioles' record against the Rays put the Os in a good light! It's a measure of the way the team has improved in the past couple seasons, against what has been the standard bearer in the division, along with the Yankees. It certainly indicates that the Os have been trending in the right way.
But that wasn't enough to be considered Orioles Pravda for Angelos, apparently. Certainly no one in the production truck thought much of it, seeing as how they had a ready-made graphic to go along with Brown's thoughts. Which means it went through a pregame meeting and no one raised the idea that it would be controversial in any way.
In what should be a feel-good season for the Orioles as an exciting young roster has charged up the standings and degrees of relevance to be atop the AL East for the first time in forever, especially as they look to make themselves at home for the next few years. And the play of Adley Rutschman or Gunnar Henderson or Felix Bautista certainly has made the rounds in baseball circles. But it's always been matched or outshone by whatever hillrod gong show is going on in the owner's box, or the money they won't spend and the trades that won't let them make, and what the Os could be but so far have chosen not to be. Orioles fans certainly deserve better, but at least they've found a legion of announcers to take up this cause along with them. But considering who John Angelos is, it's likely that shame isn't something he's equipped with.
---
Now, to the lighter side of baseball:
Remember kids, there's nothing out there you can't have if you want it bad enough.
---
On the field, it's worth wondering if the past few days haven't tolled the bell for both the Angels and Padres.
The Angels blew a ninth-inning lead last night to the Giants to lose their seventh-straight game, all in the week after they did what they could to make a charge for the playoffs. They didn't just blow it and lose a squeaker, but went full Three Mile Island in giving up six runs in that frame to turn a 3-2 lead into an 8-3 loss.
The Padres lost three of four to the Dodgers at home, capped off by getting clubbed on Monday 13-7. That leaves them 11 games back in the NL West, and four games from the wildcard with four teams to leap over. The Angels are 11.5 back in the division, so that's that done, and eight games back in the wildcard also with four teams to climb over.
It doesn't mean either team was wrong to do everything they could to win, because that's the point. But sometimes a team just gets the ass end of baseball's whims.
Follow Sam on Twitter @Felsgate and on Bluesky @felsgate.bsky.social