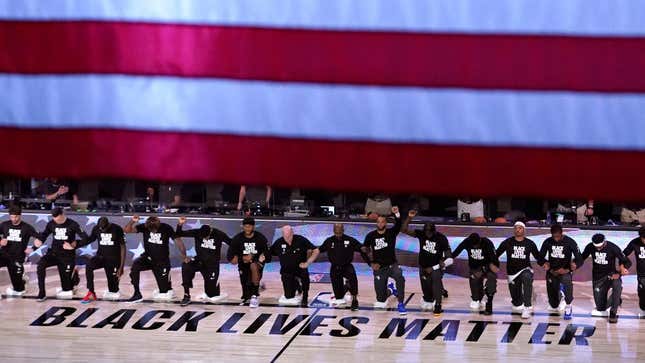 Jonathan Isaac being one of only two members left (Markelle Fultz) from the Orlando Magic's roster from their time in the 2020 Bubble is irony at its finest. It speaks to the high amount of turnover that occurs in the league, as well as being an example of just how fast the "Black Lives Matter" movement came and went in the NBA.
Is Domantas Sabonis at fault for the Draymond stomp? | Agree to Disagree
A Black league cared when it was the cool — and convenient — thing to do. Then everybody went home and the pandemic and racism "apparently" ended.
But if there was ever a time for the players of a franchise who were the postseason opponents of the Milwaukee Bucks during their playoff boycott that brought sports to a standstill, then this season is the perfect time to bring the peaceful protest back, given the actions of their own front office and Isaac's continued self-hating antics.
The Magic — a team that's sponsored by Disney (who has been publicly quarreling with Florida's Republican Governor Ron DeSantis) — decided that this was the right moment to support their first Presidential candidate by donating $50,000 to DeSantis.
"To clarify, this gift was given before Governor DeSantis entered the presidential race," a team rep wrote in an email that was obtained by Business Insider. "It was given as a Florida business in support of a Florida governor for the continued prosperity of Central Florida."
The timing of the email doesn't matter, given that anybody with a brain knew that DeSantis was planning to run for President. And then there's the fact that the Magic are owned by the DeVos family — a group of people who love donating money to racist Republicans, spearheaded by the destruction that Betsy DeVos did to American schools as Trump's Secretary of Education.
The Magic have drawn a line in the sand. They have decided to back a man that called basketball players "freaks of nature" as he tried to imply that the sport wasn't a thinking man's game unlike baseball — which was dog whistling at its finest.
Orlando's ownership wants the world to know that they financially support a Presidential candidate that's signed a bill to limit discussions of race in schools and businesses in Florida, who stands against critical race theory and DEI initiatives but mandates that Asian-American history be taught in schools while also banning courses on systemic racism.
But more importantly, the DeVos family wants Black people and their almost all-Black roster and coaching staff to understand that they're aligned with a man that doubled down on his beliefs that Black people benefited from slavery — and Isaac is their puppet inside the locker room.
"I believe that values matter, and in today's day when we do give our money to companies that don't support our values we're cosigning their message," Isaac said in a recent interview on Fox & Friends. "So what I wanted to do was give Americans –freedom-loving, faith-loving Americans– the option to buy with their values."
Isaac is trying to sell shoes. Because as Michael Jordan once told us, "Republicans buy sneakers, too."
The Magic's anti-Black big man has launched an athletic apparel company called "UNITUS" geared towards Christians and conservatives — it's for the people who hate anything "woke" but can never define "woke" when asked to.
Funny enough, Isaac and Meyers Leonard were the ones who decided to stand during the national anthem in the Bubble when everyone else was kneeling. Leonard was fined $50,000, got suspended, and was ultimately out of the league for two years after he was caught using an anti-Semitic slur while playing a video game. Isaac missed more than 2.5 years after tearing his ACL in the Bubble.
God don't like ugly.
So far, the league's players' union has issued a statement calling out the Orlando Magic's political contribution. The NBA and Adam Silver have yet to say anything. But, that doesn't mean that the players can't.
Paolo Banchero was the Magic's No. 1 overall pick in the 2022 NBA Draft before going on to win Rookie of the Year. Later this month, he'll be representing Team USA in the FIBA World Cup. The Magic will also be playing a regular season game in Mexico City in November. Banchero and his teammates will be on a global stage in the coming months, allowing them to do what the former members of that team once did in the Bubble — bring awareness to an issue by kneeling during the national anthem. But, this time it won't be due to the racism that's happening across the country. It'll be because of the hate that's taking place in their own locker room and front office.