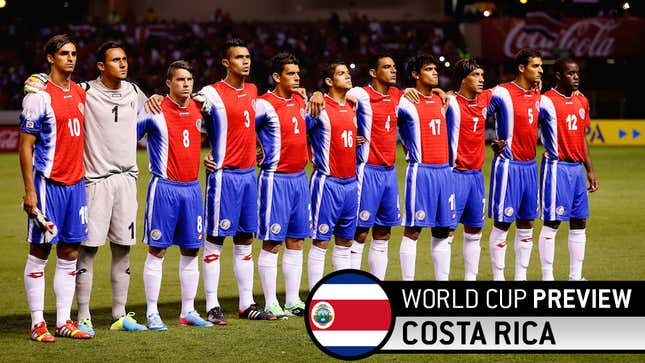 Do they have any shot? Not really. But that doesn't mean Costa Rica can't put the fear of God into the Group D favorites for a half or so.
Costa Rica qualified for Brazil by finishing second in CONCACAF's hexagonal, right behind the US. Los Ticos only lost two of their 10 qualifying games, and finished with the fewest goals allowed, averaging a stingy 0.7 goals per game. The trail included winning all 5 of their home qualifying games, including against Mexico and the US. They were led in qualifying by 8 goals from striker Alvaro Saborio, who plays for Real Salt Lake in MLS.
For as Group of Death-y as the US's draw is, Costa Rica's is even harder. They open against the semifinalists from the last World Cup and 2011 Copa America champion, Uruguay, and then travel to play Euro 2012 finalist Italy.
At least they have a break in their third game.
Roster
Goalkeepers: Keylor Navas (Levante), Patrick Pemberton (Alajuelense), Daniel Cambronero (Herediano)
Defenders: Johnny Acosta (Alajuelense), Giancarlo González (Columbus Crew), Michael Umaña (Saprissa), Óscar Duarte (Club Brugge), Heiner Mora (Saprissa), Waylon Francis (Columbus Crew), Júnior Díaz (Mainz 05), Cristian Gamboa (Rosenborg), Roy Miller (New York Red Bulls)
Midfielders: Celso Borges (AIK), Christian Bolaños (Copenhagen), Michael Barrantes (Aalesund), Esteban Granados (Herediano), Yeltsin Tejeda (Saprissa), Diego Calvo (Vålerenga), José Miguel Cubero (Herediano)
Forwards: Joel Campbell (Olympiacos), Bryan Ruiz (PSV), Randall Brenes (Cartaginés), Marco Ureña (Kuban Krasnodar)
Nickname
Los Ticos
FIFA World Ranking
28
Manager
Jorge Luis Pinto
Player to Watch
Keylor Navas, Goalkeeper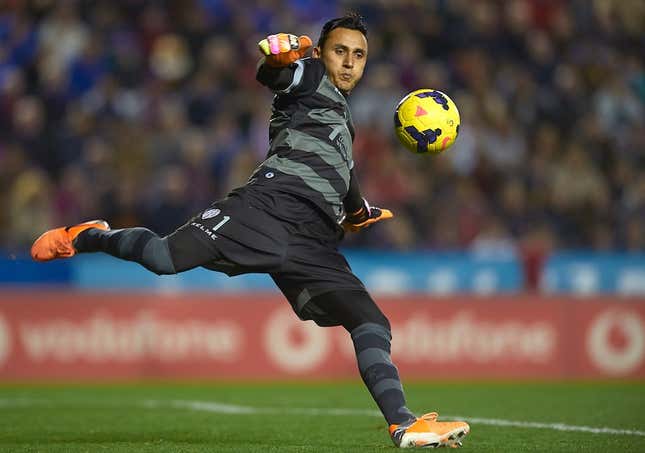 You might think your team is in trouble if your player to watch is your goalkeeper. But Navas may just be the single most in-form goalkeeper in the whole world. Navas led his club team, recent La Liga newcomers Levante, to a 10th place finish, largely on the back of the league's 5th best defensive record. Navas was named goalkeeper of the year in La Liga by statistics site Whoscored.com, and was one of only three non-Barcelona, Real Madrid, or Atlético Madrid players on the team.
Not only do the stats show Navas's immense importance to his teams, but he passes the eye test as well. Against Atlético Madrid, back in early May, Navas was at his best. He's a phenomenal leaper, and has the flexibility to bend his body in mid-air, as he does in stopping this deflected Atlético shot. Costa Rica will desperately hope they can do just enough on offense in their group games so that they can play to their strength: defensive stability.
Tactics
Costa Rica displayed a tried-and-true mentality during qualifying: Look to collect all three points at home, and bunker down to preserve a point on the road. Unfortunately, there are no home games for them in Brazil. Manager Pinto hasn't shown too much creativity in his formations, often opting either for a standard 4-4-2, or preferring a 5-3-2 on the road.
Pinto will choose the latter in Brazil, given the quality of Costa Rica's opponents and their own injury-ravaged squad. Left back Bryan Oviedo was in the midst of a breakout year for Everton before a broken leg in January ended his season and his World Cup hopes. Just this past week, top striker Saborio was ruled out of the World Cup with a fractured foot.
Without these attacking weapons, Costa Rica will have to rely on youngster Joel Campbell, who's probably best known to US fans as the player who was tortured by a phantom in the middle of a game. Campbell has immense potential, but he's never been counted on before to lead the Costa Rican line. Manager Pinto will also hope that Bryan Ruiz, recently out of favor at Fulham, can rediscover his form in Brazil.
But even if Ruiz manages to play like it's 2010, and Navas slaps away all manner of dangerous curlers heading for the top corner, Costa Rica are going to struggle to get out of this group. A draw in any one of their games would be an accomplishment, though it wouldn't surprise if they give teams a scare for 60 or 70 minutes before ultimately falling.
Group D Fixtures
June 14, 3 p.m.: Uruguay vs. Costa Rica at Estadio Castelao
June 20, noon: Italy vs. Costa Rica at Arena Pernambuco
June 24, noon: Costa Rica vs. England at Estadio Mineirao
Complete Group D Previews
Uruguay | Italy |England | Full Archive
---
Screamer is Deadspin's soccer site. We're @ScreamerDS on Twitter. We'll be partnering with our friends at Howler Magazine throughout the World Cup. Follow them on Twitter, @whatahowler.
Top image by Sam Woolley; photos via Getty.