Regardless of how you feel about a shirtless, flexing Mario Balotelli, the luxurious follicles that sprout all around Andrea Pirlo's head, or Lorenzo Insigne's textbook giocatore look of prison-chic with a €1,000 weekly hair budget, Italy do not enter this tournament as a "sexy" team. Somehow, one of the handful of squads with a legitimate shot to win the whole thing is going under the radar.
They have stars. Balotelli is one of the most recognizable names in soccer. Pirlo, along with Spain's Xavi, has been a world-renowned, iconic midfielder for more than a decade now. They have youth. Balo's still only 23. Marco Verratti has already laid claim to the title of Next Pirlo at only 21.
And they have history. After deciding "eh, we'll pass" on an interminable boat trip to Uruguay for the first World Cup, Italy was the first team to win the tournament back to back in 1934 on home soil, then again in 1938. The '30s were the height of the Italian dominance of international soccer, in large part due to Benito Mussolini's efforts to hold up the Italian national team as all that is good about fascism.
Much like Franco in Spain, Mussolini saw the propaganda potential of a united, strong, indomitable national team both at home and abroad. To facilitate his plans, he poured all kinds of money into the domestic league. Serie A was swimming in massive stadiums paid for courtesy of the government, and could afford rigorous training routines to hone the skills of the next generation. That training strong young soccer players simultaneously trained strong young soldiers was no accident.
G/O Media may get a commission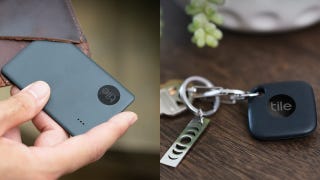 Up to 35% off
Tile Item Trackers
After Mussolini's death and during Italy's long depression, the Azzurri didn't give their fans much to cheer for. The disappointment of their early exit in the 1950 Cup was blamed on another South American boat ride, this time one they decided to take. The year prior, a plane carrying Serie A powerhouse Torino crashed. Ten of Torino's men were national team starters. Thus, when it was time to travel to Brazil for the World Cup, the shorthanded and suddenly aerophobic Italians took to the seas. The long trip did them no favors and they didn't make it out of the group.
From the '70s to the present, the team regained their reputation as one of the world's best. In half of the 11 World Cups in that span, Italy have made it to at least the semi-finals, including wins in 1982 and 2006.
Italy's recent history bodes well for their fortunes in Brazil. Along with the 2006 World Cup, they were runners up at Euro 2012. Italy are both experienced and young, well-decorated yet hungry, and even if none of your friends will think you're cool for picking them to win it all, no one would be shocked if they did just that.
Roster
Goalkeepers: Gianluigi Buffon (Juventus), Salvatore Sirigu (Paris Saint-Germain), Mattia Perin (Genoa)
Defenders: Mattia De Sciglio (AC Milan), Giorgio Chiellini (Juventus), Matteo Darmian (Torino), Ignazio Abate (AC Milan), Andrea Barzagli (Juventus), Leonardo Bonucci (Juventus), Gabriel Paletta (Parma)
Midfielders: Thiago Motta (Paris Saint-Germain), Antonio Candreva (Lazio), Claudio Marchisio (Juventus), Alberto Aquilani (Fiorentina), Daniele De Rossi (Roma), Marco Parolo (Parma), Andrea Pirlo (Juventus), Marco Verratti (Paris Saint-Germain)
Forwards: Mario Balotelli (AC Milan), Antonio Cassano (Parma), Alessio Cerci (Torino), Ciro Immobile (Borussia Dortmund), Lorenzo Insigne (Napoli)
Nickname
Gli Azzurri (The Blues)
FIFA World Ranking
9
Manager
Cesare Prandelli
Players to Watch
Mario Balotelli, Striker
Not that we had to tell you that you might want to pay attention to Balotelli on the pitch, the one black guy on a very white team representing a very white country, the one with the thin ridge of spiky, sometimes peroxide-blonde hair, probably rocking some outrageous boots, liable to drop your jaw with a wondergoal only for said jaw to fall off your face with an even more iconic celebration. He does a pretty good job of calling attention to himself.
And you know it's justified if only because, in spite of all the self-inflicted headaches and racially-fraught responses his very existence in Italy's blue shirt elicits, he is still regarded as a crucial component for club and country. Balotelli is not only the best striker Italy have to offer, he is also the best attacker, and probably the overall most promising prospect. (Verratti is nipping at his heels, but Roberto Mancini wasn't just gassing his player's head up when he said Balo could become one of the world's best players.)
There is nothing Super Mario can't do on a pitch. With his size, strength, and delicate passing touch, he is great at holding up play by snaring long balls and laying them off to supporting players. He combines that with the eyes to see a defense-slicing pass and the feet to get it there. When taking on a defense alone, there are few players better at dribbling left and right and back again to confound his markers.
All the weapons you would want in a striker are already in Balotelli's arsenal. In his season and a half back in Italy with AC Milan, he's begun to show more maturity and consistency. So while Balotelli is still a work in progress on his path to becoming the most deadly forward in the game, what we have already is plenty powerful.
Andrea Pirlo, Midfielder
Pretty much everything we said about Ivory Coast's Didier Drogba can be said about Andrea Pirlo. Simply put, he's the coolest. Where Drogba's hair is his defining physical feature, for Pirlo it is his beard. Pirlo is the iconic though aging leader of Italy, Drogba is the iconic though aging leader of Ivory Coast. They were both club legends (Pirlo at AC Milan, Drogba at Chelsea) somewhat ignominiously cast off because of their advancing years.
There are differences, of course. Pirlo never had a Civil War to intervene in. He was also a well-regarded prospect from a very young age and was bought by two national giants (Inter, then AC Milan) before he had really proven anything in the top flight.
But most importantly, Pirlo is still good. His game is all pinpoint passing, all the time. From his spot deep in midfield, he doesn't have to streak up and down the field and pings balls to any player, in any location, at any time. That vision isn't something that deteriorates with age, evidenced by his pivotal role in Juventus's back-to-back Serie A championship campaigns.
And he's just so damn cool. He's kind of like Zlatan Ibrahimovic if the whole Zlatan schtick hadn't been so thoroughly co-opted by his sponsors at this point. Some choice quotes from il professore over the years:
After the wheel, the PlayStation is the best invention of all time. And ever since it's existed, I've been Barcelona, apart from a brief spell way back at the start when I'd go Milan. I can't say with any certainty how many virtual matches I've played over the last few years but, roughly speaking, it must be at least four times the number of real ones. Pirlo v Nesta was a classic duel back in our Milanello days. We'd get in early, have breakfast at 9am and then shut ourselves in our room and hit the PlayStation until 11. Training would follow, then we'd be back on the computer games until four in the afternoon. Truly a life of sacrifice.

[...]

I thought about quitting because, after [Milan's collapse against Liverpool in] Istanbul, nothing made sense any more. The 2005 Champions League final simply suffocated me.

[...]

I don't feel pressure … I don't give a toss about it. I spent the afternoon of Sunday, 9 July, 2006 in Berlin sleeping and playing the PlayStation. In the evening, I went out and won the World Cup.

[...]

Being part of a team that belongs to everyone makes me feel good. A lot of the time, it's better than sex: it lasts longer and if it falls flat, it can't just be your fault. Take someone like Antonio Cassano [ed. note: Cassano made the 2014 World Cup team after years of absence]. He says he's slept with 700 women but he doesn't get picked for Italy any more. Can he really be happy? I wouldn't be.
He lives and dies for soccer, his country, and video games. Truly a world treasure.
Tactics
For as much as Prandelli has tried to evolve Italy past the stereotypical Italian teams of yore, going into the World Cup, Italy look pretty Italian. Two of the hallmarks of the prototypical Serie A side are extreme narrowness and physical tackling from defensive-minded midfielders. Sure enough, the Azzurri line up in narrow formations packed to the gills with defensive midfielders.
It is accurate to say formations plural, because even on the eve of the Cup, Italy do not have a go-to formation. Since the early stages of Euro 2012, Prandelli has shied away from the three center back line ups he relied on earlier in his tenure. In the mean time, Italy have cycled between the 4-3-1-2, 4-3-2-1, 4-3-3, sometimes even going back to the old 3-5-2. (For what it's worth, wing back Christian Maggio's omission is a strong signal that Prandelli doesn't plan on reverting to a back three in Brazil.)
This tactical inconsistency is a direct reflection of Italy's constantly revolving squad. At times, players like Giuseppe Rossi, Stephan El Shaarawy, Riccardo Montolivo, and Emanuele Giaccherini looked to be fundamental building blocks for the national team. None of those guys made it to Brazil. (Montolivo was only omitted because of a recent injury, but still.)
Without finding reliable attacking partners for Mario Balotelli, Prandelli has decided that fielding an extra central midfielder—by far Italy's deepest position—is a better bet than blooding one of the young wingers. We usually see Andrea Pirlo as the deepest midfielder, flanked by Daniele De Rossi and Marco Verratti, with Claudio Marchisio either at the top forming a diamond or playing nominally out wide. And that's why we get this super narrow, midfield-packed, wing-barren Italy.
To Prandelli's credit, despite the superficial resemblance, his team doesn't play like your grandpa's Italy. All those midfielders are happier with the ball at their feet than tackling it away from the opposition, even if most of them like to sit deep for their clubs. And no midfield outside of Spain's can match the exquisite passing of the Pirlo-Verratti combo.
Whether the 11th man is another out-and-out striker like Antonio Cassano to form a 4-3-1-2 or attacking midfielder like Antonio Candreva playing a little deeper, Italy's attack is predicated on getting Balotelli the ball in places where he can score. Which is just about anywhere. They'll be just fine.
Group D Fixtures
All times Eastern
June 14, 6 p.m.: England vs. Italy at Arena Amazonia
June 20, noon: Italy vs. Costa Rica at Arena Pernambuco
June 24, noon: Italy vs. Uruguay at Estadio das Dunas
Complete Group D Previews
Uruguay | England | Costa Rica| Full Archive
---
Screamer is Deadspin's soccer site. We're @ScreamerDS on Twitter. We'll be partnering with our friends at Howler Magazine throughout the World Cup. Follow them on Twitter,@whatahowler.
Top image by Jim Cooke; photos via Getty.