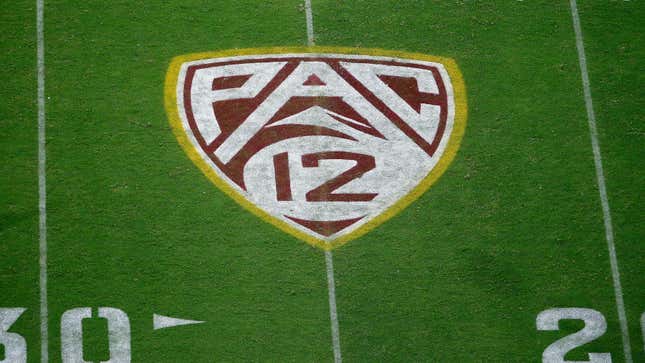 There's something cathartic about watching conference realignment. Dooms-dayers have been preaching that the end is near for a while, and as the Pac-12 folds, the ACC and Big 12 look on, praying to avoid a similar fate. Deep down, they know it's over, and they, too, will be ravaged by the SEC and Big Ten until there's nothing left worth saving. When the world ends, you can either lose your shit and rail against the inevitable, or sit down, pour a glass of your finest booze, and enjoy life's last moments.
Will Aaron Rodgers turn the Jets into instant contenders?
I've chosen the latter of those two options, for I refuse to waste a second agonizing over irreversible, stupid decisions made by universities that, if they were businesses, would've filed for bankruptcy had a CEO run them in this manner. Oregon and Washington are Big Ten bound; Arizona, Arizona State, and Utah clambered onto the Big 12's life raft; and Cal, Stanford, Oregon State, and Washington State are left scrambling.
Unless those four universities can convince a bunch of athletic directors to join a league without a TV contract or any powerhouse programs, the Conference of Champions could be kaput after a 108-year run. Somebody please do a welfare check on Bill Walton.
The American higher education system is so corrupt, so greasy, so devoid of ethics and oversight, that it's amazing degrees help you gain employment at all.
These schools — the ones that raise tuition every year, exploit an unpaid workforce, mishandle scandal after scandal, and auction off a century's worth of tradition for a TV deal and the right to play Baylor — are your references? Let me take another look at your work experience because I've met ASU alums before, and the only thing that diploma guarantees is your body can sustain itself entirely on vodka sodas.
The future of college sports will certainly look like… something
For those excited about the possibility of two super conferences creating an NFC and AFC for college football, may I remind you the NFL has 32 teams. The Big Ten already has more members than either conference, and there are no divisions either. If that's still the case in the B1G, championship matchups will be determined by the two best winning percentages, and when that predictably fails, an arbitrary tiebreaker.
There are so many questions. Can conferences renegotiate TV deals after they add more schools, and more mouths to feed? How will travel be handled by teams and fans? How many non-conference games will football programs play? How will lower-level schools be affected if they no longer get revenue from playing sacrificial lamb?
The Big Ten hoops tourneys are going to feature a field that's almost a third of the size of the Big Dances'. The answer to accommodate all this expansion can't be more games; at least not without pushing the workload far beyond what's safe, and what's acceptable for an activity that's not your career.
There's a daunting amount of logistics around seemingly every corner, and it's very apparent that no one thought any of this through. Schools are too desperate for financial security to be concerned with anything beyond the next payday. Meanwhile, the Big Ten and SEC are amassing arms like it's 1962, and with as little regard for the future as Cold War-era America and the Soviet Union.
However, there's no use hiding under your desk, or trying to James Bond your way out of this nuclear disaster. The bomb went off, and a post-apocalyptic dystopia of college sports is almost here, but before you watch Oregon-Maryland, Arizona-Kansas State, or UCLA-Iowa, just kick back and admire the pretty mushroom cloud.