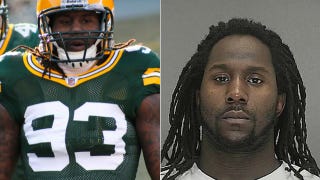 The Green Bay Packers completed their rout of Detroit by 3 p.m. Central yesterday, and linebacker Erik Walden got into trouble about 12 hours later.
Here's the Green Bay Press-Gazette:
Green Bay Packers linebacker Erik Walden was arrested Friday morning for allegedly assaulting his live-in girlfriend, who required medical treatment in the incident.

Brown County Court was closed Friday for the holiday and Walden will remain in jail on suspicion of felony domestic violence-substantial battery until at least Monday.

[... The police chief] said before the woman called police, she was treated for a cut and bump on her head, along with an injured right hand, at St. Vincent Hospital in Green Bay. Walden, 26, was later booked into the Brown County Jail at 8 a.m.
Walden has 41 tackles on the season, including eight yesterday.
Green Bay Packers LB Erik Walden arrested on battery charges [Green Bay Press-Gazette]