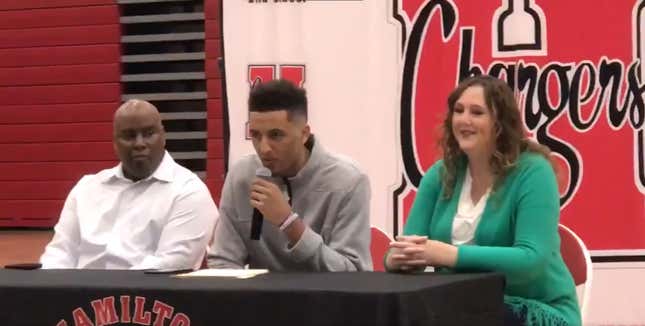 On the surface, Patrick Baldwin Jr.'s Wednesday morning commitment to play college basketball next season for his dad at UW-Milwaukee doesn't seem like anything out of the ordinary. But when you peel back the layers, you realize that it's an intriguing case of a top-5 recruit turning down offers from Duke and Georgetown to play in the [checks notes] Horizon League, in a time in which college athletes will finally be allowed to make money off their name, image, and likeness.

Grant Hill looks to repeat Team USA's 2004 "success"
If you were looking for rumors or speculation about a teenager's decision where to play college basketball, this isn't' the place. But, what I will do is break down what we do know based on the facts:
NCAA President Mark Emmert recently told the New York Times that he will recommend membership to approve name, image, and likeness (NIL) legislation for college athletes before July 1, according to a report from CBS Sports.
A 2020 report from ESPN claims that Duke hired a firm called INFLCR that believed that players from their 2019-2020 men's basketball team could have collectively made $1.3 million through branded posts on their social media accounts that season if NIL rules were in play. Former Duke player Cassius Stanley was estimated to have been worth more than $400,000 alone in ad dollars, and he was six picks away from going undrafted. Baldwin Jr. is ranked fourth in his class according to ESPN, while Stanley was ranked 32nd.
According to the U.S. Department of Education, these are the minimum basketball revenues of the programs that Baldwin Jr. was choosing from: Duke; $35,489,891, Georgetown; $13,573,946, UW-Milwaukee; $2,588,033.
Since 2007, every player ranked in the top five of ESPN's annual top 100 list that has gone to college has chosen a Power 5 program except Baldwin Jr., and the few that went to programs with basketball traditions. That list includes: Derrick Rose (2007, Memphis), Tyreke Evans (2008, Memphis), Andre Drummond (2011, UConn), and Henry Ellenson (2015, Marquette).
Last season, UW-Milwaukee finished with a 10-12 record and was 7-10 in the Horizon League Conference, which is historically a one-bid conference when it comes to the NCAA Tournament. The program has made the tourney four times, with 2014 being its last appearance, and 2005 being its best finish when it made the Sweet Sixteen. Baldwin Sr. was hired in 2017 when he signed a five-year deal and is a prime candidate for a new contract with the commitment of his son as his deal is set to expire in 2022.
According to UW-Milwaukee's schedule, ESPN2 and ESPNU were the largest platforms on which the team played last season in terms of televised games.
These are the things that can't be disputed because they have actually happened. But, what we don't know is how much they may have influenced Baldwin Jr.'s decision. It's up to you to decide whether or not the decision was good or bad.
All I know is that the decision is one that we haven't seen before. Now, does it mean that more players will follow in his footsteps? Who knows. But, these are the type of things we could see more in the NIL era as we still don't know when the one-and-done rule will be eradicated by the NBA. So in the end, no matter how Patrick Baldwin Jr.'s season turns out next year, he's already proven that college basketball is entering an era of the unknown, where anything is possible.