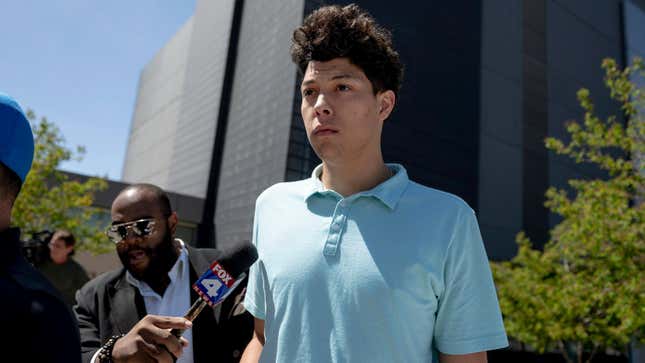 "Sit your ass down."
That's what LeBron James told his mother Gloria James during a playoff game in 2008 against the Boston Celtics after he took a hard foul. Gloria James was "doing too much" and was "trying to protect her baby," as she was caught on camera yelling at the Celtics.
Jackson Mahomes gives Antonio Brown a run for his money | Worst of the Week
LeBron checked Gloria — it was needed. Patrick Mahomes should take note and follow suit. Because like LeBron's mom, his brother has become too much of an unwanted distraction to ignore. And unlike Gloria James, the allegations against Jackson Mahomes are dangerous enough to damage a multimillion-dollar brand.
Jackson Mahomes, Patrick's 22-year-old younger sibling, who has a history of being an annoyance on social media, was arrested on Wednesday, and charged with three counts of aggravated sexual battery and one count of misdemeanor battery, according to reports. As usual, TMZ broke the story and there are pictures and a video of the February incident. In the video, Mahomes can be seen aggressively trying to kiss the owner of Aspens Restaurant, and Lounge in suburban Kansas City.
"He forcibly kissed me out of nowhere," Aspen Vaughn told the Kansas City Star, "and I'm telling him, pushing him off saying, 'What are you doing?' and then he proceeded to do it two more times."
"Our investigation has revealed substantial evidence refuting the claims of Jackson's accuser including the statements of several witnesses," Mahomes' attorney previously said as he denied the allegation against his client. "We have reached out to law enforcement to provide the fruit of our investigation so that they may have a complete picture of the matter."
Jackson Mahomes is a lightning rod for criticism
In the past, Mahomes has caught flack for taunting and throwing water on fans. He also danced on the Washington Commanders' memorial to beloved defensive back Sean Taylor.

But while his previous actions could be listed as childish at best and disrespectful at worst, they weren't legal matters — until now. The only reason we're even aware of Jackson Mahomes is that his brother has won two Super Bowls, two Super Bowl MVPs, two regular season MVPs, and signed a contract extension that could be worth up to $503 million, all by the age of 27.
As arguably the face of the NFL, Patrick Mahomes has said, and done everything right so far — be it on the field or off. It's what makes Jackson's previous and present actions so befuddling and annoying, given the fine line his older brother has to walk, and all of the spoils that come along with being related to one of the biggest athletes in the world.

There's an old African-American proverb about how one should never "f*ck up the church's money," as it's a warning to beware of making bad financial decisions that come with ridicule and embarrassment. And right now, Jackson is "f*cking up" Patrick's money.
Family dynamics can be tricky, especially when it comes to athletes. They can be your support system, the ones with their hands in your pockets, or both. Over the last few years, we've watched Patrick Mahomes reach a level that no other Black quarterback before him has, which will always bring an additional spotlight, and the need to always "act right."
Jackson Mahomes seems to have forgotten that his actions will always affect his brother. And if LeBron James can tell his mother to "sit her ass down," then it should be easy for Patrick to share that same message with Jackson.