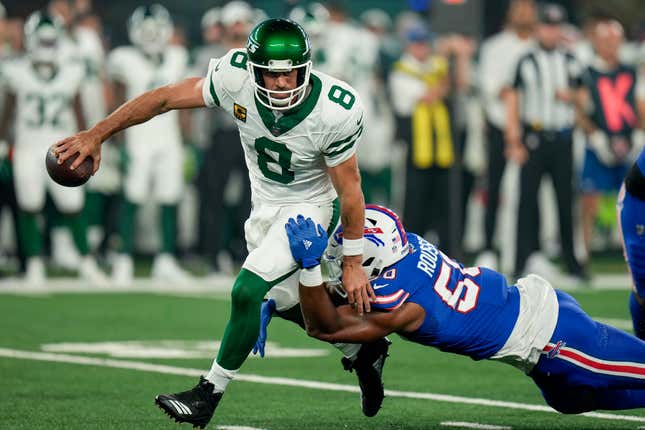 As the leader of America's quarterback delegation, Patrick Mahomes had to comment on social media following Aaron Rodgers' grand opening, grand closing debut as the New York Jets' starting quarterback.
Rodgers went down on the fourth play of the game when former NFC North foe Leonard Floyd sacked him. He was helped off the field and ruled out for the rest of the game with an ankle injury. X-rays were negative and he will receive an MRI on Tuesday. Mahomes was watching the game, and expressed how it saddened him to see Rodgers go down. He posted on Xwitter, "Hate, that man… Praying for the best *prayer hands emoji*."

However, that was what it read after Mahomes made use of the edit button provided to him as one of the few users Elon Musk allowed to remain verified who actually went through a verification process. His original post would make someone question if Mahomes is a secret Chicago Bears fan, or if has some Pfizer commercials in the works.

Punctuation is paramount, kids. During free agency season, a punctuation mistake that frequently occurs is people forgetting the dash in re-sign. To re-sign, is to ink a deal with a previous place of employment. To resign, is to leave a previous place of employment. One punctuation mark, and an antonym is created.
Mahomes laughed it off. He later posted that he knew he would eventually need that edit feature. Thank goodness for him that Elon let him keep it.