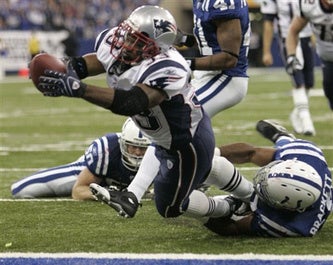 • Was there ever any doubt? You could tell that it was just a matter of time before Tom Brady and Randy Moss could stick a dagger through the Indianapolis defense. For three quarters Tony Dungy's Colts controlled the field, but you can't keep a good man down long, and the same can be said of Bill Belichick. The Patriots crushed the spirits of the whitest crowd ever to witness a football game with a rather masterful fourth quarter comeback. The final score-a 13 yard touchdown reception by Kevin Faulk-came with over three minutes remaining in regulation, but Peyton's Manning's subsequent fumble put an end to any hope of killing the beast.
The Patriots had the game in hand with the ball and a 24-20 lead but Bill Belichick still had to rip the heart out of his last non-New England supporters. I speak of course of gamblers. We're a simple people, and we don't ask of much. But when you've committed your season to blowing opponents out of the water we'd really appreciated it if you didn't take a knee when you're a field goal away from a cover. Banging out some guy's wife for a couple of decades is one thing, but taking a knee with two minutes left? You Mr. Belichick, are fucked in the soul.
• Jason Witten doesn't need no stinkin' helmets. The big tight end was nearly decapitated by Philadelphia's fans defensive backfield, but still managed to finish with 77 yards along with a touchdown. TO and Romo hooked up 10 times for 174 and a touchdown, the qb added a third touchdown pass to somebody named Tony Curtis. I imagine he was quite pleased.
• Why does Mike Shanahan have a job? Denver was eviscerated by the mighty De-troit Li-ons by a score of 44-7 (how'd they score seven?). Jay Cutler was apparently eaten by Shaun Rogers meaning it was Patrick Ramsey's turn to suck (sidenote: the Lions lead the league in players named Shaun...and frowns). At one point the team's long-snapper/emergency third quarterback was warming up under center. Hey Shanny, if Patrick Ramsey is your backup then you damn well better have a capable third-stringer.
• New SSW: The Saints don't even suck a little bit. Last year's darlings were written off after their 0-4 start, but the plucky bastards have found their form and returned to .500 at the halfway point. Drew Brees threw for 900 yards, I'm super cereal.