Tim Tebow's maybe-Mary-Magdalene, and a former UCF player are among those in the top 24 on American Idol. Well, for now. Rumor has it one of them's gone because they couldn't keep their trap shut.
Janell Wheeler has appeared with Tebow in two photographs, which is one photograph more than the Internet needs to declare the two an item. Well, after being named to American Idol's top 24, she's already closer to a professional career than Tebow is.
Then there's Michael Lynche, who was a defensive tackle for Central Florida in 2001-02. His story's actually a lot more interesting, but because he's not a bubbly blonde, and can't be tied to Tim Tebow in any way, I wasn't stupid enough to lead with him.
Last month Lynche's father told the St. Pete Times that his son made the cut, though it didn't air until Tuesday. That's a no-no.
FOX's confidentiality agreement forbids contestants and their loved ones from revealing results ahead of time, so rumors are swirling that Lynche has already been dismissed from the show, which we'll find out later on. If only someone would leak that; what are they going to do, dismiss him twice?
G/O Media may get a commission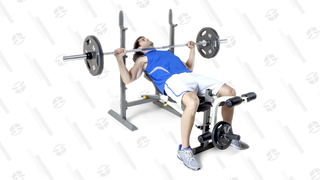 10% Off
Marcy Folding Weight Bench
Meanwhile, I hope the fine people at E! News have enjoyed my audition post. I can haz real sports news?
'American Idol' Reveals Final Top 24 Contestants [MTV.com]
American Idol Top 24 includes former UCF football player Michael Lynche - Maybe. Leak may have cost Lynche his spot. [Orlando Sentinel]