Whenever a football story drifts beyond football and contracts and whatever Brett Favre just text-messaged from his ride mower, we can always count on Peter King to give voice to the most oblivious and casually insensitive thought in his head.
Let's see, there was zombie Pat Tillman and his fervent, undead wish to play football for Bill Belichick. There was Gaines Adams and the tragic fact that he died before he could play football for Rod Marinelli. There was this moment last month: "Rey Maualuga checking into Betty Ford later this month, by the way, according to Adam Schefter. Good nugget." And now, there is Ben Roethlisberger:
If Roethlisberger is without fault, he has to re-think who he associates with, and he has to re-think whether it's a very good idea to be hanging around college bars at 2 in the morning. If Roethlisberger is at fault, the issues are entirely different. If he's at fault, he has got to grow up.
Now, I'm no Andrea Dworkin, but I'm fairly certain sexual assault is not just a function of youthful puckishness. If Ben's at fault, he'll have to do a lot more than grow up — three to five in Reidsville, for starters. Other than that? Good nugget.
UPDATE: Peter King thinks he thinks he screwed up:
I obviously did not go far enough in my condemnation of Ben Roethlisberger in MMQB. I feel a little like Tony Kornheiser this morning. He said after the Hannah Storm debacle a couple of weeks ago that he's amazed he doesn't screw up more than he does with all the opinions he has. I said we should withhold judgment until we know the full details of what happened the other night at the bar in Georgia, but wrote that if Roethlisberger is guilty of sexual assault or worse, he needs to "grow up.'' Obviously, if he's guilty, he deserves much more than that — much more, like a jail term. As a father of two daughters, I regret not being more strident, and I appreciate the 43,598 of you for calling me on it.
G/O Media may get a commission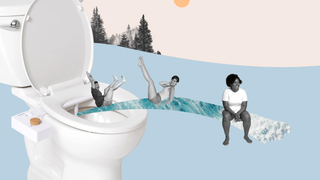 17% off
Tushy 3.0 Warm Water Spa Bidet Attachment
In wake of signing/trade frenzy, a reminder: Free agency is overrated [SI.com]
RELATED: Urban Dictionary: leave the yard [Urban Dictionary]