Phil Jackson had the savvy and good fortune to coach two of the greatest players the NBA has ever known—both 2-guards, both brilliant sociopaths. But for the first time, Jackson writes about how the two measure up against each other.
Jackson's book, Eleven Rings, comes out next week. But today, Mike Bresnahan of the L.A. Times, who often tried unsuccessfully to get Jackson to compare the two, runs a few preview passages in which Jackson does exactly that.
On basketball mindsets:
"Michael was more likely to break through his attackers with power and strength, while Kobe often tries to finesse his way through mass pileups," Jackson wrote. "Michael was stronger, with bigger shoulders and a sturdier frame. He also had large hands that allowed him to control the ball better and make subtle fakes.

"Jordan was also more naturally inclined to let the game come to him and not overplay his hand, whereas Kobe tends to force the action, especially when the game isn't going his way. When his shot is off, Kobe will pound away relentlessly until his luck turns. Michael, on the other hand, would shift his attention to defense or passing or setting screens to help the team win the game."
On defense:
"No question, Michael was a tougher, more intimidating defender. He could break through virtually any screen and shut down almost any player with his intense, laser-focused style of defense.

"Kobe has learned a lot from studying Michael's tricks, and we often used him as our secret weapon on defense when we needed to turn the direction of a game. In general, Kobe tends to rely more heavily on his flexibility and craftiness, but he takes a lot of gambles on defense and sometimes pays the price."
G/O Media may get a commission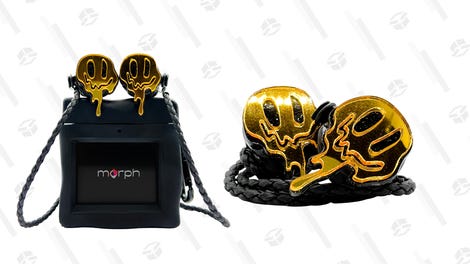 morph audio
Morph Earphones
On leadership:
"One of the biggest differences between the two stars from my perspective was Michael's superior skills as a leader," Jackson said. "Though at times he could be hard on his teammates, Michael was masterful at controlling the emotional climate of the team with the power of his presence. Kobe had a long way to go before he could make that claim. He talked a good game, but he'd yet to experience the cold truth of leadership in his bones, as Michael had."

Bryant gradually evolved during the 2008-09 championship season, when the Lakers successfully retooled with a more finessed look with Pau Gasol instead of the brute force of the Shaquille O'Neal teams.

If Bryant talked to teammates in his earlier Lakers years, it was usually, "Give me the damn ball," Jackson wrote. "But then Kobe started to shift. He embraced the team and his teammates, calling them up when we were on the road and inviting them out to dinner. It was as if the other players were now his partners, not his personal spear-carriers."