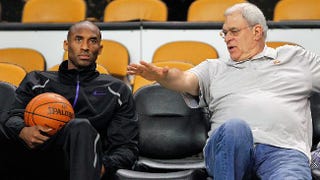 The Sporting News thinks Kobe and Phil Jackson are now trading "barbs." I dunno. Maybe this sounded a lot more cutting in the original Swedish?
Kobe has to screw up the game and energizing the team and going one on one, which take the rest of the guys out. As a consequence, that didn't bring us back in it. It did give us a run and got back into it, but we couldn't sustain it.
What? That's not a barb. That's an email about a new boner pill.
Kobe Bryant, Phil Jackson trade verbal barbs through media [Sporting News]
Five things to take from Lakers' 104-85 loss to Memphis Grizzlies [Los Angeles Times]