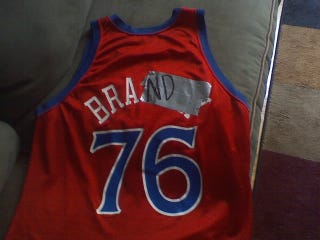 This Sixer fan, also swept up in Elton Brand fever, has no time to wait for local sporting goods outlet stores to get the newest prized jersey in stock, obviously.
Instead he used his old Shawn Bradley jersey ( a collector's item in its own pathetic right) as the blank slate for this creation. His work both symbolizes the exciting new era in Philadelphia professional basketball that is afoot and our fanbase's trashy fashion sense very nicely.
Frankly, I'm a little surprised he didn't put his own last name on the back of it. He'll most likely just wait until the actual #42 jersey becomes available to take that step.
Get along....
Elton Brand On Why He Left The Clippers [SI]
Sixers Ready To Contend [ESPN]