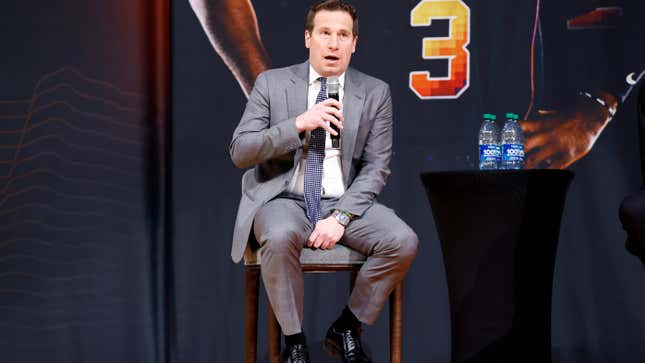 Monday morning, people weren't talking about how the Phoenix Suns beat the Denver Nuggets in a crucial Game 4 of the Western Conference Semifinals. They skipped over the fact Devin Booker and Kevin Durant combined to score 72 points on a night that Nikola Jokic proved that he's the rightful MVP with 53 points and 11 assists. Why? Because Mat Ishbia upstaged the main event like Lil Mama at the 2009 VMAs.

Flopping Suns owner Mat Ishbia should've been ejected after Nikola Jokic incident | Andy Reacts
Flopping Suns owner Mat Ishbia should've been ejected after Nikola Jokic incident | Andy Reacts
When the courtside antics of an owner are generating more headlines and discussions than the play of three of the best players in the league — it's a problem.

Nikola Jokić got T-ed up for Ishiba's behavior
The Suns' new governor (owner) has made an emphatic name for himself in the last few months, and it involved more than the flopping he did on Sunday night from his courtside seat, where his childish behavior led to a two-time MVP receiving a technical foul.
Ishbia recently bought the Suns for $4 billion, as he became the man that took over for the NBA's worst owner — Robert Sarver. An investigation into the team under the old regime proved that Sarver was a flaming misogynist and racist that had to go, as he openly discussed his sex life and liked to say the N-word. With Sarver out, things were supposed to be different in Phoenix.
"I'm not selling this team ever," Ishbia told Front Office Sports. "I'm going to own this team for my whole life."
"It's only been three months, but he's been great about letting us do our jobs. He's not a micromanager," Suns CFO Jim Pitman said in the same report. "He identifies the two or three important things that he wants to improve and he gives us the resources we need to make sure that we're an elite organization."
Sounds great, right? Well, that's not what Ishbia's other employees are saying.
Meet the new boss... same as the old boss
Last month, Bloomberg released a report in which more than two dozen employees of Ishbia's company —United Wholesale Mortgage — alleged the company of having a toxic work culture that included racism and sexual harassment…just like the Suns under Sarver, or how things used to be with the Dallas Mavericks — who are owned by another rich guy who's known for his courtside antics.
And just last week, Ishbia was on Bill Simmons' podcast where he openly discussed his dislike for Cleveland Cavaliers owner Dan Gilbert.
"He doesn't like me and I don't like him. That's how it is," he said.
"His company used to be No 1 in mortgage, UWM, my business, is No. 1 in mortgage. I don't like the way they do business in a lot of things. He probably doesn't like the way we do things. We're in the same town. We compete. We're winning. That's how it is right now."
By Monday morning, Ishbia was doing damage control by releasing a tweet about how basketball "should be and is the only story." But, that's not how this works. The franchise used to have an owner that played the background until his problematic ways became public. And now, the team has an owner who craves attention while facing some of the very same allegations the guy before him did.
The Phoenix Suns had a Robert Sarver problem. It's starting to feel like they're on the verge of having a Mat Ishbia problem.
Is Suns owner Mat Ishbia's tweet window dressing for imminent revenge? | Andy Reacts
Is Suns owner Mat Ishbia's tweet window-dressing for imminent revenge? | Andy Reacts