Bears 40, Steelers 23: Ben Roethlisberger threw for 406 yards, but the Bears still demolished the Steelers. Even though Chicago allowed Pittburgh to cut down a 24-3 lead, the team stymied a full comeback by Mike Tomlin's crew. The Bears are 3-0, and although this team was talented before Marc Trestman replaced Lovie Smith, Trestman's certainly helped work out the minor kinks.
The first touchdown of the game came when Matt Forte dove into the end zone and was Sage Rosenfels'd. Unlike Rosenfels, Forte held onto the ball and gave the Bears a 10-3 lead.
Forte had a solid night, rushing for 87 yards and a touchdown. He was able to keep his balance on this 55-yard run, setting up a short Michael Bush touchdown that probably made fantasy owners who own Forte angry. Take the bad with the good, guys.
G/O Media may get a commission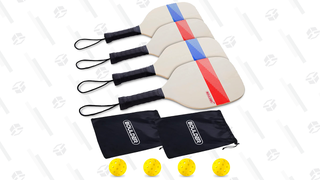 It's Pickleball
Pickleball Sets
This isn't a GIF, but after a Major Wright pick-six, this Steelers fan was so sad, you could still see it through his silly bandana.
Down 21, Ben Roethlisberger threw a fantastic strike to Antonio Brown in the end zone, making it a two-possession game.
Brown had quite a game today, netting the most targets from Roethlisberger and finishing with nine catches for 196 yards and two touchdowns. Brown's second score was a one-handed save that allowed him to get possession before falling out of bounds. His left knee seemed suspect, but the booth didn't feel the need to review the play, and Pittsburgh cut the lead to 27-20.
Ben Roethlisberger had an entertaining pass-turned-fumble that he recovered himself. Whee!
The Steelers' second-half rally made things interesting, but the Bears held on after an Earl Bennett TD to make it 34-23. Julius Peppers then returned a Roethlisberger fumble 42 yards for six points, and the game was really done. Pittsburgh is 0-3, and things are looking very, very bleak at the moment.