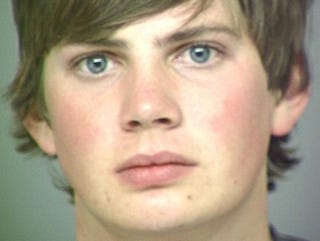 And they knew him by the trail of Doritos and pizza sauce. They, being the Ventura County Sheriff's Department. Him, being Taylor Christopher Jackson who allegedly broke into a Domino's pizzeria in Ojai, Cal. But how did they know?
Security video showed the burglar trying to get into the cash register, failing, then going into the kitchen, Michalec said.

After reviewing video, deputies identified Jackson - whom they had dealt with in the past - as the man suspected of breaking into the business and spilling pizza sauce on his clothing while ransacking its kitchen, officials said.

Deputies knew where Jackson lived, and they noticed a trail of Doritos leading from the business in the direction of his home several blocks away, Michalec said.
KVTA-AM says court records showed that Jackson has a penchant for weapons-related violations last year "regarding a knife, a dagger and dirk."

Video, Sauce Trail Lead To Arrest In Pizza Burglary [CBS Los Angeles]
Thief gets no money, but search turns up dough [Ventura County Star] (H/T Chip)