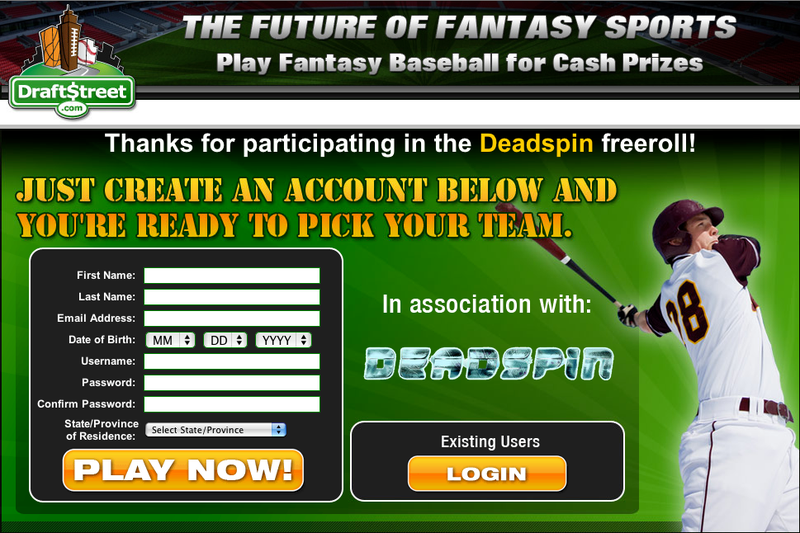 It's that time of year: the crack of the bats, the smell of processed meats, the roar of the crowd, and the sight of team-gear-bedecked fans are common occurrences, from opening day all the way through to November.DraftStreet is back by popular demand, just in time for baseball season, bringing you a one-night-only, exclusive, $500 freeroll that you can play in your Spider-Man jammies. Just sign up here for the Deadspin league, assemble the best team without going over $100,000, and you could win one of the 9 payouts.
Tonight's Player Deals:
Pitcher Matt Cain is going for $14,267.
Ian Stewart playing third base for a new team will cost you $4,849.
A breakout from last year, outfielder Alex Gordon can be had for $5,438.
You can adjust your roster up until the freeroll starts tonight, Friday April 13 at 7 pm ET, at which time roster will lock and the Live Scoreboard will appear. Click here to get your team together now.
---
The top 9 finishers will receive the following payouts: $150, $105, $75, $55, $40, $30, $20, $15, and $10. Roster: C, 1B, 2B, 3B, SS, 3 OF, 2 U (all batters eligible), 2 SP, 1 RP, 1 P (all pitchers eligible). Refer to the rules page when you sign up for full scoring details.