To all the Wall Street titans, billionaires, and run-of-the-mill rich people who are celebrating the ascendance of Donald Trump to the White House: please keep this one piece of context in mind.
Though many average Republican voters doubtless do not realize this, Barack Obama's presidency has been one of the brightest periods in history for American corporations and investors, who were suffering the effects of a global financial crisis as he took office.
With one day of his presidency to go, the S&P 500 was up 182% from Mr. Obama's inauguration in January 2009, delivering an annualized return including dividends of 16.3%. In data since 1928, only Bill Clinton produced higher returns. And, if lower inflation under Mr. Obama is taken into account, the real gap is tiny.
Although politicians often take credit or blame for the entire economy during campaigns, the reality is that the actions of any given president are only one factor among many that determine the direction of stocks, and the wider economy as a whole. But nuance has never been Donald Trump's strong suit. He ran as the only man who can Make America Great Again, and loudly condemned "THE OBAMA ECONOMIC DISASTER."
Obama's predecessor laid the groundwork for an economic disaster. Obama's successor—whose victory has thrilled Wall Street—will inherit a generally strong economy, and one that has rewarded the investor class richly. Yet the anticipation of that same investor class is that Trump will now unleash some sort of boom that has been held in check by Obama-era regulations.
G/O Media may get a commission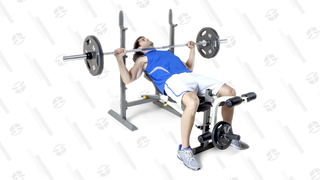 10% Off
Marcy Folding Weight Bench
Let's meet back here in four years to see how this fucking bet pays off.
You fucks.