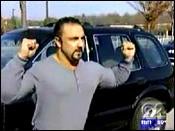 This is Al Argibay, and he has a goatee and, we presume, walks around making this arm motion all day. And he's pissed, because he was just thrown out of his gym for grunting too loud.
Argibay said he was at a multi-press station, getting ready to squat about 500 pounds when the forbidden sin happened. "I let out a grunt, squatted down, back up, grunt again. That's it," explained Argibay. "Basically, grunt, grunt, basic breathing in heavy, and breathing out."

[Gym employee] Palazzolo admits she called the cops on Argibay. The Wappingers Falls police report said officers were asked to "escort a member out of the club for grunting while working out...which is not conforming with the rules of the establishment."
Palazzo says Argibay was "irate and nasty" and pointed out that the gym, which discourages "musclehead behavior," has signs posted everywhere that say "No Grunting." (Lord are we happy that sign has never been posted anywhere we've lived, though our mom did once put it in our dad's bathroom.)
We tend to side with the gym here, and not just because Argibay looks like that. (Though that doesn't help.) When one posts a sign clearly stating that patrons are not allowed to grunt, well then, dammit, there's no grunting! Why do you think it's everywhere at Wimbledon?
Man Escorted From Planet Fitness Gym For Grunting [WCBS] (via Rammer Jammer Yellow Hammer)